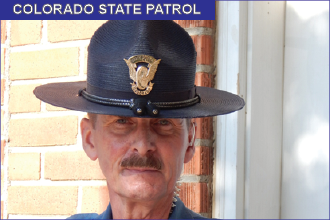 Published
Tuesday, June 21, 2016
Colorado State Patrol (CSP) Trooper Bryan Williams has been with the Patrol for 23 years, with the past 15 served in a four-county area in southeast Colorado.
Williams said he always wanted to be in some type of law enforcement or in the military. Before joining CSP he served in the Marines six years, three years as active duty, then three as a reserve.
Before coming to Eads, Williams was assigned to troops in Golden and Fairplay, then returning to the Denver area and working the toll road. When the toll position was eliminated, he was given several choices for next assignment, the Eads area being one. Williams and his wife, Cindy, visited the area and knew this was the place they wanted to call home.
When asked why retiring so young he replied, "Even though I love what I do, its time. I want to spend time with my family and not to miss another holiday, birthday or anniversary. Now Cindy and I will be able to ride more - horses and motorcycles - and travel and enjoy life".
Williams last official day as Trooper for the Colorado State Highway Patrol will be June 30, 2016, however his last working day will be June 24.