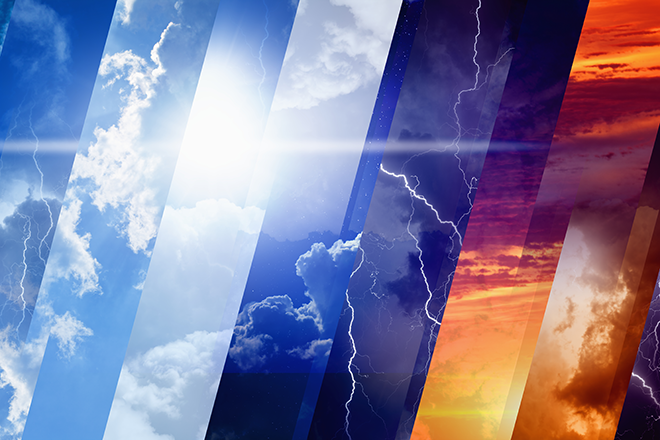 Published
Tuesday, June 11, 2019
Temperatures across Kiowa County will be a few degrees warmer than Monday, with wind continuing Tuesday.
Look for highs in the low 80s, with the Arlington area potentially reaching the mid-80s, under mostly sunny skies throughout the day.
Light morning winds out of the south are expected to shift to the north later in the day. Gusts to 20 miles per hour are expected, though Haswell may see a few gusts to 30 mph, as a front drops across the area today.
Overnight, look for lows in the lower 50s. Brandon and Sheridan Lake may fall to the upper 40s.
Daytime temperatures drop back a few degrees Wednesday, though dry conditions are expected to continue through the day. A chance of showers and thunderstorms returns Wednesday evening, with the greatest - though still limited - chances in far eastern Kiowa County.
Currently, KiowaCountyPress.net Live Weather from downtown Eads shows SSE wind at 0 mph. Monday, winds were gusting to 25 mph during the afternoon and early evening hours. The temperature is 33, with 0.00 inches of rain so far today. Yesterday, 0.00 inches of rain was recorded, with a high of 77. The strongest wind gust since midnight was 25 mph, while the high temperature for the day so far was 52 at 03:10 PM.
Elsewhere in Colorado, warmer temperatures at higher elevations will continue the spring snow melt. Flood warnings are in effect for parts of Mineral, Rio Grande, and Conejos counties. Flood advisories are in place along portions of the Gunnison, Mancos, La Plata and San Juan Rivers in western Colorado.
A flood watch is in effect through Wednesday morning for parts of Costilla, Alamosa, Rio Grande, Conejos and Saguache counties. Minor to moderate flooding is possible.
Kiowa County Weather Outlook for June 11, 2019

Community

High

Low

Chance of Precip

Wind Gust

Direction

Arlington

85

52

0

20

N

Haswell

82

51

0

30

NNW

Eads

81

50

0

20

N

Brandon

81

49

0

20

N

Sheridan Lake

80

49

0

20

N

Towner

80

50

0

20

N
Weather information updated throughout the day is available at http://weather.KiowaCountyPress.net.