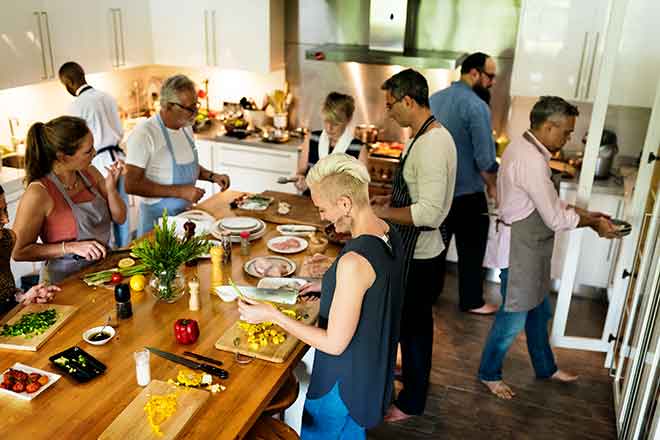 Published
Saturday, July 3, 2021
Makes: 4 servings
Cook Time: 30 minutes
Looking to add more vegetables into a family-friendly meal? This recipe does the job. With a rainbow of colorful vegetables that are cooked until tender but not mushy, this stir-fry presents bright, crisp flavors that are wholesome and tasty. Use tofu or other meat substitutes for an appetizing vegetarian dish.
Ingredients
1/2 teaspoon ground ginger
1/8 teaspoon garlic powder
1 teaspoon soy sauce
1/3 cup water
1 cup carrot (sliced)
2 cups broccoli
1 bell pepper (chopped)
1 onion (chopped)
2 cups fresh mushrooms (sliced)
2 tablespoons oil
8 ounces sliced beef
Directions
Wash hands and any cooking surface.
Mix spices, soy sauce and water; set aside.
Wash vegetables. Slice carrots, broccoli and mushrooms. Chop onions and bell peppers.
Heat oil in large frying pan and add meat when oil is hot; stir until brown.
Push meat to the side and in the middle of the pan add carrots, onions and peppers. Cook them for one minute
Add mushrooms and broccoli. Cook until they are tender.
Add liquid mixture and cook until bubbly.
Reduce heat, cover pan and cook for two more minutes.
Serve over whole wheat pasta or brown rice.
Source: Texas Cooperative Extension, The Texas A&M University System, Expanded Nutrition Program
Nutrition Information
Serving Size: 1/4 of recipe (296g)
| Nutrients | Amount |
| --- | --- |
| Total Calories | 188 |
| Total Fat | 10 g |
| Saturated Fat | 2 g |
| Cholesterol | 35 mg |
| Sodium | 143 mg |
| Carbohydrates | 11 g |
| Dietary Fiber | 3 g |
| Total Sugars | 5 g |
| Added Sugars included | 0 g |
| Protein | 15 g |
| Vitamin D | 0 mcg |
| Calcium | 48 mg |
| Iron | 2 mg |
| Potassium | 550 mg |