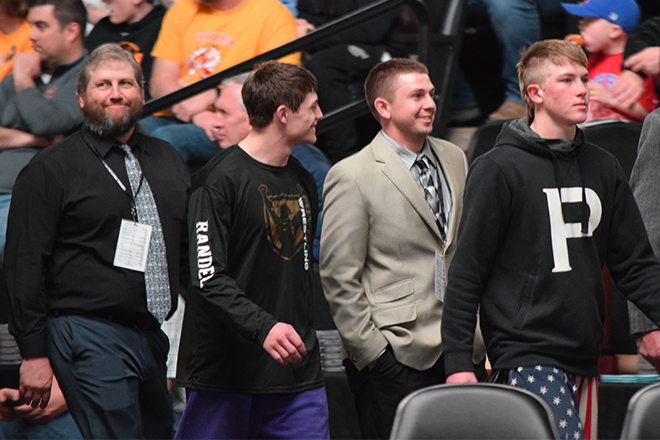 Published
Monday, February 19, 2018
There comes a time in a young man's life that the dream just might be within reach. The long practices, the cutting weight, and the dedication to the sport might just pay off. The blood, sweat and yes, the tears, have been worth it. The struggle that you had to live through makes the dream that much more satisfying.
TREVOR RANDEL lived his dream this weekend during the State Wrestling Tournament in Denver at the Pepsi Center. If you are familiar with the "new age", Randel was trending on social media with all the posts, pictures, and video.
Randel was given the #2 seed in his 152-pound bracket, so it was only fair to assume that he would be in the finals, but there were three other wrestlers that had the chance to stop that from happening. The first was Jacob Shelton from Meeker. Randel had him pinned in 0:37. The next opponent was Josh Trujillo from Gilpin County which Randel took care of with a 5-1 decision. The semis brought along Grey Neal from Paonia. He was a tough sophomore but couldn't get the best of Randel as the final buzzer was 8-4 in favor of the County Line Rival. The anticipation lasted all day for the championship match. The Parade of Champions began at 6:30, which features every weight in all the classifications, 2A, 3A, 4A and 5A. After weighing in at 8:00 a.m. that morning he walked onto the mat after 8:00 p.m. that night. His adversary was #1 seed Kobryn Mann from Sedgewick County Fleming. With fans on the edge of their seats for six minutes, the Rival came through victorious with the 4-3 decision.
Randel had wrestled his last match in his high school career ending with a 41-2 record. The two losses were from a state champion from Las Vegas, New Mexico and a state placer from Rawlins County, Kansas. Congratulations on all your accomplishments and the program will be missing a true role model next year. Go out and do great things Trevor!
We can't stop there as the County Line Rival team also had another athlete in the Big Show on Saturday night. McClave senior, KEN COX might not have had the outcome that he and his fans wanted but he never disappoints with his determination and heart.
Cox was also seeded #2 in his 285-pound weight class weighing in at 200 pounds to compete with challengers much heavier. Well you have heard the saying, "It's not the size of the dog in the fight, it's the size of the fight in the dog", this applies to Cox. Placing in the last two previous state tournaments, Cox didn't seem to be overwhelmed with nerves. He always appears to wrestle with a calmness that must be intimating to his opponents which he knew he had to overcome three of them to make it to the finals.
Cox started off with Soroco senior, Erik Shafer. With 49 seconds ticked off the clock, Cox had him pinned. Quarter-finals brought along Ethan Dustrude from Calhan with the ref slapping the mat at 1:19. It was Fowler sophomore, Tyler Mullins who was having an outstanding, upsetting tournament so far, that Cox would face in the semis. Mullins was stopped in his reign of terror in 1:06 and Cox would now be representing the County Line Rivals in the heavyweight championship. It was #1 seed, Greg Garcia, a senior from Rocky Ford with a 46-4 record that Cox would grapple against for his last match of his high school career. Both wrestlers had pinned their way to the championship match, but this last match was to be decided with a decision. Garcia got a first period takedown, but Cox was able to escape leaving the score 2-1 after the first two minutes. Garcia elected to start in the down position to start the second period and the only points scored in the second was his escape. The Rival also chose down in the third and was also able to escape but couldn't pull off any more points as Garcia wrestled cautiously staying away from any tie-ups that might happen and came away with the 3-2 decision. Cox will end his senior year with a 24-3 record and the program will greatly miss his leadership role on the team. Congratulations, Ken, on all your accomplishment during your wrestling career. Best of Luck to you and your future endeavors.
JAYCE BAUER was representing southeast Colorado at the State Tournament and came away with a 3rd place finish in the 220-pound weight class. He fought off Cannon Buford from Crowley County during his first match, coming away with a pin in 5:33 to advance to the quarters. It was a Cedaredge junior, Taj Van der Linde, that knocked Bauer into the consolations with a 9-0 major decision. It is a hard way to work your way back into the medal rounds, but Bauer was dead set on not coming home empty handed so he pulled off a pin over J.J. Horn from Fowler in 0:40 and a close decision over Kevin Chavez from Hotchkiss, 8-6. Bauer was now wrestling for either a win and get 3rd/4th or lose and finish in 5th/6th. He decided on the better outcome getting a squeaker, 4-3 decision, over Brayden Dillingham from Calhan and then finishing off with a 4-1 decision over Dante Molina from Dolores Huerta to capture 3rd place in the state tournament. Congratulations on a fine 36-10 season and with more hard work and dedication he will come back strong to finish out his senior year.
The final medalist for the team was Dawson Roesch wrestling at 182-pounds. Roesch grappled with Toby Waddell from Cedaredge during his first match of the 2018 State Tournament getting the 8-6 decision advancing to the quarters. Friday morning brought him face-to-face with Davis Shults from Simla, after a hand shake the match belonged to Roesch as he had the Simla Cub pinned in 1:08. With this win he was wrestling later Friday night in the semi-final match with last year's state champion, Keegan Bean from Lyons. The Rival fought off the Lyons' athlete for awhile but couldn't make things happen and was called pinned in 3:04. Roesch was able to watch the first round of consolations Saturday morning and found out he would be wrestling Toby Waddell again from Cedaredge. The Rival ended with the 1-point advantage, 3-2, and was now waiting to wrestle his 3rd/4th place match against Tyson Martinez from Fowler. It was a complete five-minute match, but Martinez was able to get the 7-1 decision giving Roesch a 4th Place State Tournament medal.
The remaining three athletes for the Rivals were unable to place in the tournament but had a good showing while competing. Jaime Ibarra, Sam Wollert and Aiden Michael even though they came home empty handed they got valuable mat time in this overwhelming atmosphere.
JAIME IBARRA wrestled Anthony Felice, from Paonia for his first action Thursday and was called pinned in 3:58. Ibarra then took it to Jacob Davis from nearby Las Animas getting the pin in 2:01. He was eliminated from the tournament suffering a loss to Jess Tapia from Rocky Ford, 5-1. Ibarra finishes his sophomore year with a 25-9 record.
SAM WOLLERT sadly went two and out for his first state tournament action. The Wiley junior suffered his first loss to #2 seed Tannen Kennedy from Meeker by technical fall 15-0 and then Zeke Buker from Kiowa got the 10-3 decision ending Wollert's 2017-18 season. Wollert finished the season with a 13-25 record.
The Eads freshman, AIDEN MICHAEL, fell at the hands of Cedaredge senior, Alex McCracken, with a 0:30 pin. His second and last match was a tight 2-1 decision against Colton Murray from Peyton. Michael ended his freshman year with a 22-16 record.
Not only did this team take these seven young men to the tournament but out of 56 teams in 2A, the County Line Rivals finished in 6th place with 83 points. After coming off the Regional Championship that is a pretty nice accomplishment.
As stated earlier the team will lose Ken Cox and Trevor Randel to graduation so they will have to rely on the leadership of juniors, Dawson Roesch, Jayce Bauer, Sam Wollert, Samuel Adams and Jonathan Burbank. It is unknown at this time who they will gain from the incoming freshmen class, but it is for sure that this team will continue to excite and represent the area schools with true sportsmanship. Go Rivals and let's give them something to talk about!!
Photos courtesy Rhonda Uhland. Trevor Randel and his coach, Hayden Uhland walking in the Parade of Champions at the State Wrestling Tournament in Denver. Randel gives a celebration hug to coach Hayden Uhland after winning the championship match. Randel gets the reversal on Kobryn Mann from Sedgwick County Fleming to win the Class 2A 152-pound State Wrestling Championship. Ken Cox tries to reach in for a takedown over Greg Garcia during championship action at the State Tournament. Ken Cox on the awards stand with his 2nd place medal in the Class 2A 285-pound State Wrestling Tournament.