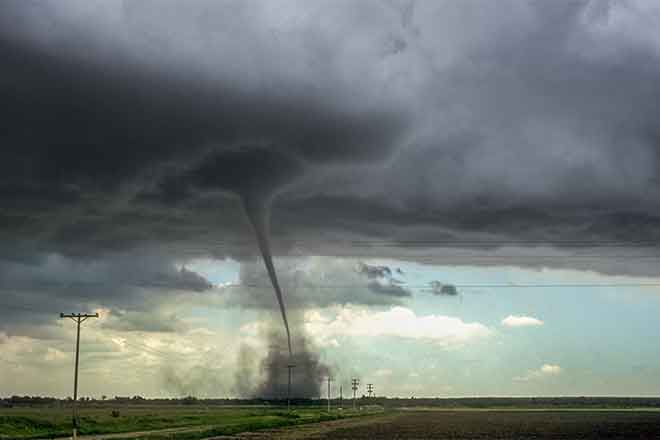 Published
Wednesday, November 25, 2020
(AccuWeather Global Weather Center) A line of severe thunderstorms moved through the Dallas area late Tuesday evening. The storms prompted tornado warnings and caused officials to activate tornado sirens, although no tornadoes were officially confirmed.
Regardless of whether or not there were any tornadoes, damage to structures occurred in Arlington and patients were being triaged for possible injuries, according to the Arlington Fire Department. Some building collapsed and fell onto vehicles.
At the drive-thru of a Burger Box on South Cooper, two passengers were trapped in their vehicle when the heavy winds caused the overhanging roof to fall on their car. They were rescued by local firefighters.
Roof collapses and debris strewn throughout streets left damaged vehicles and buildings in the wake of Wednesday morning's storms. (Twitter/@ArlingtonPD)
The Arlington Police Department shared on Twitter that strewn debris forced the closure of Pioneer Parkway as officers and members of Arlington Fire assisted residents with damaged homes and vehicles.
The worst damage was dealt to the Mirage and Waterdance Circle apartment complexes in the area of the Pioneer Parkway. According to NBC-DFW, the normally busy Parkway was turned into a makeshift command center for first responders.
The driver and passengers of a car were all reported to be safe after a structure collapsed onto a vehicle with people inside in one instance in Arlington.
In Denton, less than 30 miles north-northwest of Dallas, a wind gust of 55 mph was reported. Earlier in the evening, a 65-mph wind gust was reported in Mineral Wells, which is located a little over 60 miles to the west of Dallas.
The thunderstorms have moved east of the area and drier weather with plenty of sunshine is expected on Wednesday.