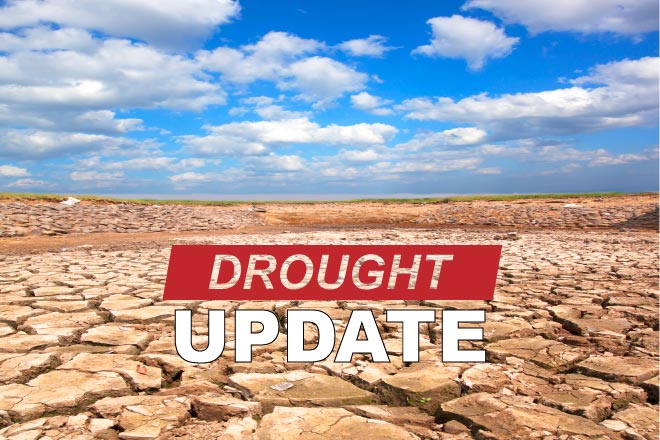 Published
Sunday, June 21, 2020
Drought in Colorado continued to grow worse this week, with a significant new expansion of extreme conditions according to the latest report from the National Drought Mitigation Center.
In western Colorado, extreme conditions now encompass much of Delta and eastern Montrose counties. La Plata County is now fully in extreme drought, along with the eastern half of Montezuma County. Extreme conditions also expanded in Dolores and San Miguel counties. Severe drought moved north to cover the remainder of Mesa County and southern half of Garfield County. Smaller portions of Eagle and Pitkin counties also moved into severe drought.
On the eastern plains, extreme drought advanced to the north and west, increasing in eastern Pueblo County and entering southeast El Paso and Elbert counties. Much of Lincoln and Cheyenne counties also shifted to extreme conditions, along with southwest Kit Carson County.
Severe drought also expanded north, covering the remainder of Lincoln county, a larger portion of Kit Carson County, and returning to southeast Washington and southwest Yuma counties. Moderate drought also increased in Washington and Yuma counties and moved into smaller areas of eastern Arapahoe and Adams counties.
Abnormally dry conditions increased into Adams, Morgan, Logan, Phillips and Sedgwick counties.
According to NDMC, while rainfall deficits only date back a few weeks to a few months, other factors are making things worse, specifically abnormal heat, low humidity, and gusty winds. Regionally, the deteriorating conditions impacted Kansas, Wyoming, the Dakotas and Nebraska in addition to Colorado.
The seasonal drought outlook for Colorado through September is grim. Drought is expected to persist across areas currently impacted, and further expand in the northwest and central parts of the state. Above normal temperatures are forecast for the coming month, along with below normal chances for precipitation for the northwest corner of the state. Equal chances are given for the remainder of the state for below, normal, and above normal precipitation.
Overall, 33 percent of Colorado is in extreme drought, up eight percent from the prior week. Despite increasing to the north, severe drought dropped from 24 to 22 percent as conditions shifted into extreme drought. Likewise, areas of moderate drought fell from 14 to 11 percent as areas moved into severe conditions. Abnormally dry conditions now account for 16 percent of the state, up from 13 percent in the previous report. Only 18 percent of Colorado is drought-free.
Just under 1.5 million people in Colorado live in drought-impacted parts of the state.
Two-thirds of the state is experiencing moderate drought or worse. One year ago, Colorado was free from abnormally dry conditions and all levels of drought for the first time since tracking began in 2000.
Drought classes include (ranked from least to most severe) D0 - abnormally dry, D1 - moderate, D2 - severe, D3 - extreme, and D4 - exceptional drought.
Colorado Drought by the Numbers

Week

Date

None

D0

D1

D2

D3

D4

Current

6/16/20

18

16

11

22

33

0

Last Week

6/9/20

23

13

14

24

25

0

3 Months Ago

3/17/20

30

23

44

3

0

0

Start of Calendar Year

12/31/19

32

17

31

20

0

0

Start of Water Year

10/1/19

30

42

28

0

0

0

One Year Ago

6/18/19

100

0

0

0

0

0