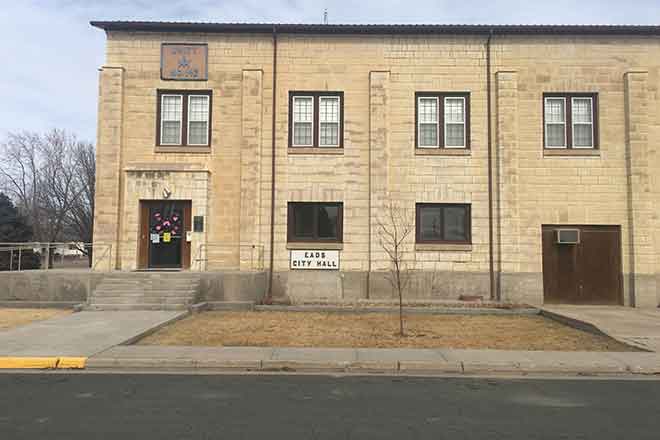 Published
Friday, November 1, 2019
The Regular Meeting of the Town of Eads Board of Trustees was called to order by Mayor Shields, Tuesday September 10, 2019 at 5:00 p.m. in the Town Hall. Assistant Town Clerk, Shealynn McCracken, took roll call:
Mayor - Joe D. Shields- Present
Trustees - Present -Meghan Buck, Terry Riley, Dennis Pearson, and Kathy McCracken
Absent - Lisa Trigilio and Justin McLoud
Town Clerk- Robin Fox -Absent
Assistant Clerk- Shealynn McCracken-Present
Director of Public Works- Van Brown- Present
Audiences/Public Comment Period-
Minutes- Kathy McCracken moved to approve the minutes as amended. Dennis Pearson seconded, motion passed unanimously.
Approval of Bills - The finance committee reviewed the bills prior to the meeting. Terry Riley moved to approve payment of the bills. Meghan Buck seconded, motion passed unanimously.
Old Business:
Fence and crosswalks at Maine St. Park- The Director of Public Works was absent at the last meeting and wanted to discuss the issues that were brought up about the fence and crosswalks at the park.
New Business:
Lisa Walsh and Tim Hier- The Director of Public Works was able to resolve the issue that Ms. Walsh and Mr. Hier were coming to the board to discuss.
Weed Letters- The Director of Public Works wanted to discuss with the board what they were wanting when it came to paying someone to mow yards that were out of compliance because we were being left with outstanding bills. The board discussed the process of going to small claims court instead of putting the outstanding bills on property taxes.
Drain Pans-The Director of Public Works wanted to get permission from the board to put drain pans in on the east side of town. He explained that he does have extra money left over from the chip seal project to complete two drain pans. Dennis Pearson moved to allow the Director of Public Works to put in the drain pans, Terry Riley seconded, motion passed unanimously.
Cardboard Recycle- The Director of Public Works informed the board about the county picking up cardboard boxes at businesses. The county asked if the town would donate dumpsters to businesses for cardboard recycle at no extra cost. The board agreed that would be fine.
AirMed- Bob Walter with AirMed was present to answer any concerns or issues the board may have.
Bring Up Items
Joe D. Shields, Mayor
ATTEST:
Shealynn McCracken, Assistant Town Clerk