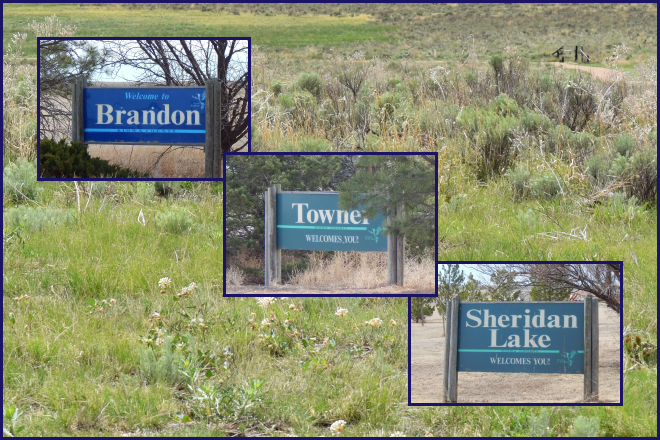 Published
Tuesday, February 4, 2020
Jim and Mary Ann Richardson are both in the Nursing Home in Eads as of Sunday! Mary Ann will be doing rehab there. They would love company!
As I drove back into Towner Saturday and Sunday afternoons, I was pleased to see several children using our new park area. Some were swinging, riding small bikes on the basketball court and playing some basketball. We are in the process of applying for another grant to help pay for some more rides and fun things to do. We hope to have this completed by summer.
A week ago, Susan Greenfield's dad, Norm, and brother, Jon, and wife, Sonya, of Sterling spent the weekend with her. They met her in Eads Friday evening and attended the basketball game so they could watch the Plainview boys, Alex Schmidt and Ben Splitter, who play with the Eads Eagles.
A week ago last Saturday, Merle and Carol Shalberg; Bill and Charlotte Woelk, and Denis and Theresa Weber went to Lamar for supper to celebrate Carol's birthday. Happy belated birthday Carol!!
Week before last, Vern and JoAnn Harris hosted their annual "Liver and Onions" birthday dinner in honor of their children, Rick, Tim and Tammy's birthdays. Hope you had great birthdays even if you did have to eat that "stuff".
Kami Janes and family came to visit her parents, Monte and Linda Stum, over the weekend.
Jeanie Smith and Susan Greenfield went to Eads Saturday night to watch Plainview students, Ben Splitter and Alex Schmidt, play basketball.
Kelvin and Amy Schmidt stay busy attending all the basketball games that their son, Alex, plays in with the Eads team.
A week ago Saturday, Cheri Hopkins traveled to Denver to attend the funeral dinner for her aunt, who had passed away, and to visit with her cousins. This Saturday, she spent the day in Sublette, Kansas, watching her grandson, Layton, play basketball.
Terry Patee, son of LeRoy (Puddy) and Patty Patee, who lived here several years and worked for Harold Tuttle, stopped by to visit with us one day last week. He lives in Ellis, Kansas.
David and Dennill Splitter are busy going to basketball games for their son, Ben, and to gymnastic meets for their daughter, Ella.
Clint and Ann (Harkness) Ellis of Salina, Kansas, spent the past weekend visiting Ann's sons - Matt Harkness; Sean and Misty Harkness and family of Towner; and Brett and Kayla Harkness and family of Syracuse, Kansas. They enjoyed getting to meet their new grandson, Bryson, for the first time.
Don't forget the Annual Groundhog breakfast and dinner put on by the Catholic Church in Tribune this Saturday from 8:00 a.m. to 2:00 p.m. Come join us for some good eatin! If you would like to buy any sausage, we still have some for sale. You can contact me at 719-727-4663.
No school this coming Thursday so our teachers can attend a convention in Denver. Also, Plainview School is looking for a bus route driver - no CDL required.
Have a great week!!