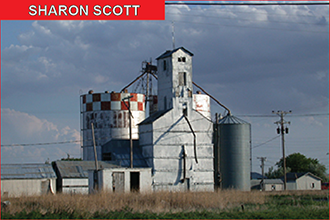 Published
Tuesday, January 23, 2018
I guess that ole' man winter finally decided to make an appearance in our area. It has been near blizzard conditions since around 1:00 p.m. today. About everyone I called, didn't have any news and was glad to be inside and staying warm.
All of the outdoor Christmas decorations are put away for another year. Now we have moved on into the next events of our life. We are having babies (goats that is). We had a set of triplets Thursday - they are so cute - but like all things, they outgrow that.
Congratulations to the Plainview Knowledge Bowl team on their second-place finish at the Eads meet Friday. Lamar was the only team to beat them. They will be competing in the Regional Knowledge Bowl February 5 in Eads for a chance to go to the state competition. We wish you all the best.
Plainview basketball team won Thursday evening against Las Animas and lost Friday to Wiley. They played some very good ball and you can see the improvement with each game. They have home games this Thursday with Deerfield, KS and Friday with Eads. On Saturday they are in a tournament in Leoti, Kansas. Come on out and support our kids.
This week is Spirit Week with lots of festivities planned. There will be a pep rally in the gym on Thursday from 12-12:30. There will be Senior Athlete and Parent recognition during the game on Friday.
Don't forget the baby shower for Jeanne Smith on Sunday, January 28, from 2:00 to 4:00 at Plainview School.
The Senior Citizen Holiday dinner, which was postponed in December due to illness, was held last Wednesday. Around 20 people attended. The food was delicious and Miss Greenfield's class had made little angels for favors. Thank you to everyone who helps do this. Everyone enjoyed the meal and there was lots of good visiting.
Here are a few of the upcoming events: February 6, Elementary Basketball game; February 8, school dismissed for Parent Teacher Conferences 3:30 - 6:30 Buses will run at 3:00; February 9, Junior High knowledge bowl at Campo; February 10, High School basketball at Holly. Leave 2:45.
Sorry Harold, I don't have much news about Cora since she moved up north.
Have a great week!!