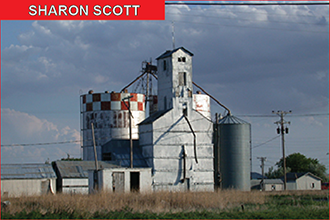 Published
Monday, January 29, 2018
Jerry Weber is in the hospital in Denver. His address is: St. Joseph's Hospital - 1375 E. 19th Ave. - Room 5313 - Denver, CO 80218. I'm sure he would enjoy cards from everyone. Hope you're better soon and back home, Jerry.
My Mom fell last Wednesday and was in the hospital overnight for observation. She is back at the Legacy and feeling better. She sure has lots of shades of purple on the left side of her face and eye. I told her she could start a new fad for eye shadow. She didn't think so!!
January 17, Vern and JoAnn Harris hosted their annual Liver and Onion dinner for their children, Tammy, Rick and Tim in celebration of their birthdays. I don't understand what you did that you have to eat liver and nions (UGH) but hope you had happy birthdays in spite of it.
Saturday before last, Cheri and Christy Hopkins and Evan and Jen Hopkins and children went to Cimarron, Kansas, to watch Layton Hopkins play basketball. Uncle Robert and Aunt Marilyn Hopkins joined them for the game. Afterwards, all of them went to Robert and Marilyn's home in Dodge City for a visit before returning home that evening. This past weekend, Layton's grandpa, Larry Poore, came for a visit and to watch Layton play ball in Tribune.
Susan Greenfield went to Lamar Saturday to watch Sam Spruill play in his basketball game.
Friday evening, the Plainview basketball team hosted Eads. It was Spirit week and they honored the senior players and their parents. Saturday, Plainview traveled to Leoti, Kansas, to play in a basketball tournament. They won their first game but lost the second game. One of the referees was Delbert Schmidt, former coach and teacher at Plainview back in the early 1990's. Delbert is now the principle at the Leoti High School. We had a good visit about his time at Plainview and since he had left. Those attending the game were: Jay, Susan and Olivia Specht; David Splitter; Kelvin, Amy and Mikayla Schmidt; Kyle Deter; Ruth Fees; Howard and Shannon Votruba and children and myself.
This Tuesday, January 30, Plainview will host the Granada Bobcats and then will travel to Granada to play ball Thursday, February 1. Next Monday, February 5, the Regional Knowledge Bowl will be held in Eads. Our team will be trying to earn a spot at the State Knowledge Bowl which will be held later in the spring. Parent/Teacher Conference is February 8 from 3:30-6:30 p.m. School will be dismissed at 3:00 p.m. and the buses will run then. February 6, there will be an elementary basketball game and supper at Plainview at 6:00 p.m.
Around 20 ladies and children attended the baby shower for Jeanie Smith Sunday afternoon at the Plainview School. She received many nice gifts.
The Catholic Church in Tribune, Kansas, will have their annual Ground Hog Day (all you can eat) dinner Saturday, February 3. They serve pancakes, eggs, sausage and pie from 8:00 a.m. to 7:00 p.m. It is there once a year fund raiser.
We will be having a card shower for my mom, Mary Huddleston, February 24, to help her celebrate her 96th birthday. I know she would love to hear from everyone. Mary Huddleston - 650 Kendall Dr. - Lamar, CO 81052
Have a great week!!