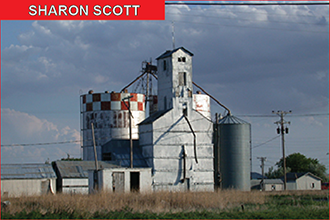 Published
Wednesday, February 28, 2018
Several family members and friends gathered at the Legacy Saturday afternoon to help Mary Huddleston have cake and ice cream to celebrate her 96th birthday. Also, a big thank you to all who sent her cards. She really enjoyed hearing from so many people. Happy 96th birthday Mom!!
Family members of Mary Huddleston gathered at the truck stop to have lunch on Saturday. We enjoyed seeing and visiting with Everett Lynn Taylor and his sister, Debbie Feldman, who were there having lunch with Burl and Cathy Scherler. Everett Lynn thought it had been around 30 plus years since he had seen any of us. Amazingly, we recognized one another!!
Several people from our area attended the district basketball games in Lamar this past week. The boys' teams of McClave, Kit Carson and Cheraw and the girls teams of Kit Carson, Eads and McClave will advance to Regional playoffs this coming weekend in La Junta. We saw some very good games and wish all the teams the best in their pursuit to State playoffs.
We were glad to hear that our friends from Cheyenne Wells, Sue Kern, Kay Fehy and Cora Coffman were not injured when they hit a deer west of Bristol coming home from the ball games Thursday evening. The car did not fare as well.
Update on Jerry Weber - he is slowly improving, but the doctors have requested no visitors except family until he is out of ICU. His mom, Theresa is spending a few days with him this week. We'll keep you in our prayers Jerry!
Vern and Joann Harris went to Las Animas to see the grand kids and took them some chickens Sunday. On the way, one of the chickens layed an egg and the grand kids thought that was really funny when they found it.
Kelvin, Amy and Alex Schmidt attended the ball games in Lamar Thursday and Friday.
Evan Hopkins and children went to Woodston, Kansas, weekend before last to see grandpa, Larry Poore. They brought home two bottle calves for Julia and Lincoln and a heifer for Layton's 4-H project. Sounds like things will be pretty lively around their home. Evan and Julia attended the Father/Daughter dance in Tribune Saturday evening.
Cheri Hopkins and her granddaughter, Julia, went to Lamar Saturday to visit Phyllis Reinert, who is recovering from hip surgery and staying with her sister until she is done with rehab.
Freda Schmidt had dinner with her daughter, Dorcas Berggren, and her husband, Bryan, Sunday.
The Republican Caucus will be held March 6 at 7:00 p.m. at the Plainview Cafeteria.
Have a great week!!