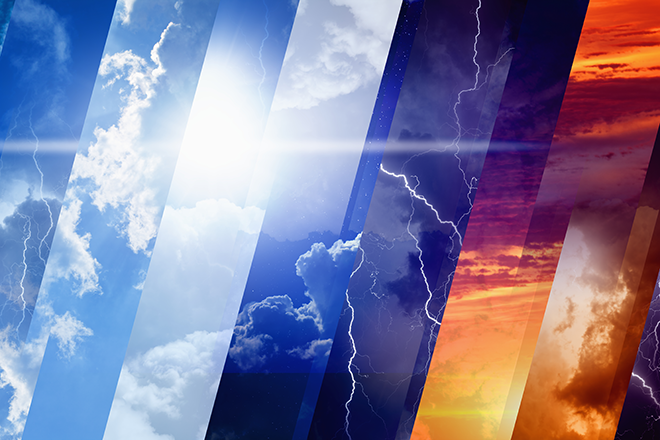 Published
Sunday, September 24, 2017
After a roller coaster week that saw hot, dry conditions with high fire danger for half the state, followed by much cooler temperatures and rain, autumn sets in for Colorado in the week ahead.
Eastern Plains
High temperatures Sunday will mainly be in the mid-50s to low 60s, with a chance for scattered showers continuing into Monday. Springfield will be the hot spot for the day, with a high in low 70s. Overnight lows will be in the 40s at least through mid-week.
Scattered showers are expected throughout the day, with heavier rain possible near the Kansas border after midnight into the early morning hours Monday.
Temperatures for the start of the week will remain below average, with highs in the 50s Monday, rising into the 60s Tuesday. By Wednesday, northeast Colorado will be back in the 70s.
While at least the early part of the week will be unsettled, next weekend is shaping up to be warmer and drier.
West Slope
A closed upper low is moving northeast across the area Sunday bringing drier air to much of the area. High temperatures will be in the mid-50s to low 60s, falling into the 30s overnight for most locations, while Cortez may see upper 20s.
For the coming week, look for unsettled conditions as a low-pressure system lingers in the area through next weekend. With a lack of cold air flowing into the area, snow levels will retreat, and daytime highs trend warmer as the week progresses.
Weather updates throughout the day can be found at http://KiowaCountyPress.net/weather.
Forecast - September 24 - 27

Sunday

Monday

Tuesday

Wednesday

City

High

Low

High

Low

High

Low

High

Low

Eads

62

45

58

38

65

44

67

42

Springfield

71

49

60

43

63

47

65

46

Trinidad

67

45

56

44

63

46

64

47

Limon

55

43

52

39

61

40

65

41

Sterling

54

44

54

41

64

41

70

44

Fort Morgan

54

44

55

40

63

42

70

44

Craig

55

32

57

30

63

34

66

38

Grand Junction

63

40

66

40

71

46

73

49

Montrose

63

34

65

34

70

41

70

45

Cortez

60

28

63

29

66

39

66

41