Image
Fire heavily damages family home in Eads
Monday, Karl and Sarah Eikenberg and family lost their home in a fire on Rittgers Street in Eads. The cause has yet to be determined. They were able to make it out safely, and there were no injuries.
A Go Fund Me page with a goal of $10,000 has been set up by Taran Muehlbauer at https://bit.ly/3SJIsdt. As of Wednesday morning just after 5:00 a.m., that goal had been exceeded by several hundred dollars.
A fund to support the family has also been established at the GNBank branch in Eads to help support the family in its time of need.
Image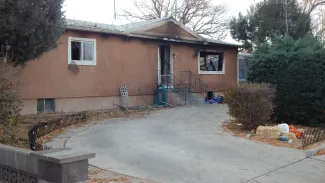 The family has requested that clothing donations be taken to Praise Community Church in Eads. See Praise Community Church Facebook page for more details https://www.facebook.com/pcceads/
The family would like to give a huge thank you to all the firefighters, Kiowa County Sheriff's Office, and Kiowa County Emergency Management for acting as quickly as they did! They support and hard work for the four hours it took to put the flames out can never be repaid, and there are no words that can express how much you are appreciated! There are so many more to thank.