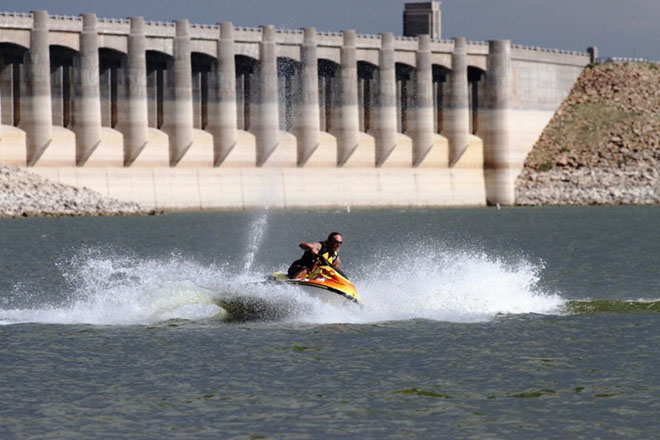 Published
Wednesday, June 7, 2017
For the first time in nearly 40 years, a new source of water is flowing into the fish and wildlife conservation pool in John Martin Reservoir. That pool, which has historically been minimally maintained through the purchase of Colorado River water, is intended to provide a permanent pool of water to protect the reservoir's world-class fishery.
The water for the permanent pool was approved on a one-year agreement between Colorado and Kansas, the two states whose citizens are the primary recreational users of the reservoir. If extended beyond the first year, it would have a significant beneficial impact on fishing and boating at John Martin in drought years when the reservoir can run dry, killing fish and destroying habitat and recreational opportunities.
The improved maintenance of the permanent pool was made possible in May when the Arkansas River Compact Administration passed a historic resolution allowing Colorado Parks and Wildlife to run water in the Highland Ditch on the Purgatoire River in Bent County into John Martin Reservoir. Stipulations in the temporary agreement state that 6,000 acre-feet of water may be delivered during specific time periods, and with consideration of transit losses.
If the water flow goes as planned, CPW hopes to renew the agreement for 2018 and work to make it a permanent agreement.
The water agreement is the culmination of long negotiations between a variety of agencies including CPW, the Colorado Water Conservation Board, the Lower Arkansas Water Management Association and the Attorney General's office, and brought to fruition through extensive collaboration between the state engineers of Colorado and Kansas.
"This is really monumental," said Dan Prenzlow, manager of CPW's Southeast Region. "This is good for parks. It is good for fisheries. It's a really big deal and it's solving a decades-old problem."
Simply put, decades ago CPW bought a valuable water right that it hoped to use to maintain the permanent pool at John Martin. But it was barred by legal restraints from sending the water downstream. CPW hopes that continuation of this agreement will protect the permanent pool for the long term.
"The result of this finer application of our water rights will be better protection of the fishery and boating resource at John Martin," said Brett Ackerman, CPW deputy regional manager who oversaw the negotiations for the pilot agreement. "With this agreement, we hope to keep the pool at John Martin closer to full.
"This will reduce the need and expense of fishery restoration after reservoir draw-downs, and abate the need to frequently purchase costly Colorado River water, saving the agency considerable money and resources."
Photos: (top) Recreation on John Martin Reservoir Courtesy Colorado Parks and Wildlife/Thomas Kimmel. (bottom) Headgates of the Highland Ditch on the Purgatoire River in Bent County releasing water now running into John Martin Reservoir to create a permanent pool. Courtesy Colorado Parks and Wildlife.