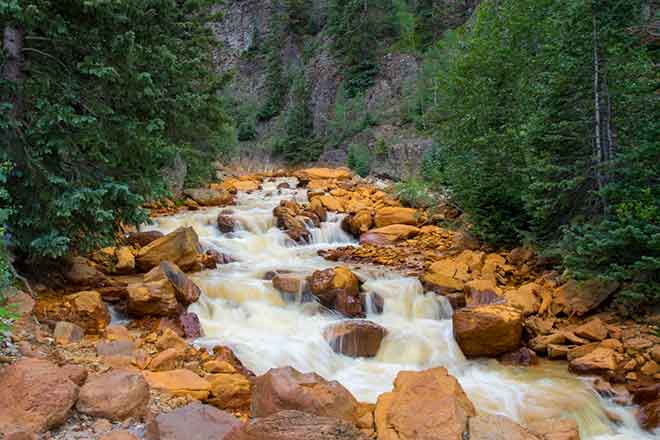 Published
Sunday, June 30, 2019
Southwest and west central Colorado has returned to a low-level risk of flooding Sunday.
The Colorado Water Conservation Board notes that a ridge of high pressure over much of the central United States is allowing the above-average hot temperatures of the past few days to continue. Scattered afternoon and evening thunderstorms are also possible for parts of the state and could continue into Monday morning. The moisture is fed, in part, from the remnants of Hurricane Alvin that briefly formed in the eastern Pacific Ocean - the first eastern Pacific hurricane of the 2019 season.
High temperatures Sunday are expected to reach the 80s for the western slope, while the eastern plains can look for upper 90s and even a few places reaching 100. Mountain valleys will be in the 70s to 80s.
Storms could form as early as 11:00 a.m. over higher elevations and spread east during the early afternoon. Most storm activity is expected to end by the early evening hours.
The National Weather Service is also alerting the public to runoff from high-elevation snowmelt. Recent warm temperatures have increased melting. Rainfall can also contribute to the increased flows.
Sunday morning, rivers were near flood stage in a number of areas, including the Eagle River near Gypsum in Eagle County and Rio Grande River in Alamosa County. The Arkansas River was also nearing flood stage at points in Chaffee, Fremont and Pueblo counties.
Flood advisories are in place for the Los Pinos River in La Plata County through Thursday afternoon. Another advisory is in place until further notice for Gore Creek at Vail in Eagle County.
While most rivers in western Colorado are not expected to reach flood stage, many that originate in the central and southern part of the state may approach or remain at bank-full levels for several days. Low lying areas can expect minor flooding.
The NWS warns that currents could be fast and unpredictable, creating dangers. River banks may be unstable and may collapse.