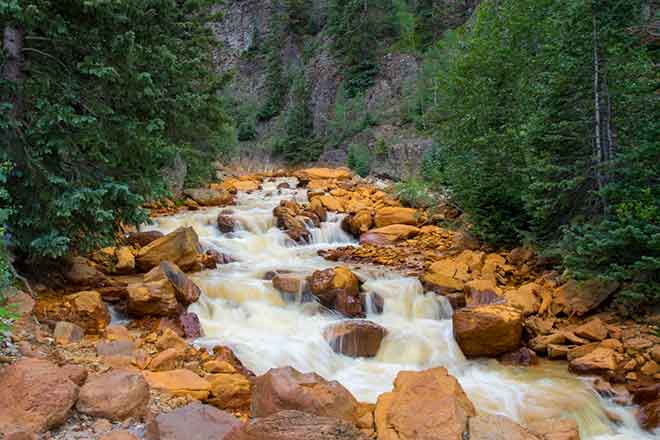 Published
Saturday, June 8, 2019
The National Weather Service has issued a flood watch for portions of Colorado's southern mountains through Wednesday morning as warmer temperatures have caused rapid snowmelt at higher elevations.
Creeks, streams and rivers in the southwest mountains and the San Luis Valley are running high and fast according to the NWS, and some minor flooding has been reported. Flood concerns are expected to continue for into the early part of the coming week.
The watch covers portions of the La Garita Mountains, central and southern San Luis Valley, eastern San Juan Mountains, as well as the upper Rio Grande Valley. Impacted communities include Alamosa, Antonito, Fort Garland, Blanca and others in the watch area.
Flood warnings are in effect for the Conejos and San Antonio rivers in southeast Conejos County through Monday morning.
A warning is also in effect until further notice for The Rio Grande River in Rio Grande County. The river is expected to run high through the weekend. Saturday morning, the river was at 5.4 feet near Del Norte, just below flood stage. The river is expected to rise to 5.7 feet, causing minor flooding, including the Del Norte Riverwalk Trail.
Southern Mineral County is also under a flood warning. Local law enforcement has reported flooding along Highway 160. The highway closed near Wolf Creek Pass due to mud and debris across the road but has since reopened. The Colorado Department of Transportation is not currently reporting road closure related to flooding in the area.
Flood advisories, some continuing as late as Monday afternoon, are in effect for numerous drainages in west central Rio Grande County, along with north central Mineral County and the San Juan River in Archuleta County near Pagosa Springs. That river was at 9.5 feet, with flood stage at 10.5 feet.
Flood advisories are in effect in other western Colorado areas.
The La Plata River at Hesperus was at 5.1 feet Saturday, with a flood stage of 5.5 feet. By Monday, the river is expected to rise to 5.4 feet.
The Mancos River in Montezuma County is also less than a foot below flood stage. The river was at 5.3 feet Saturday morning, with flood stage at six feet. Minor lowland flooding is possible.
The Gunnison River above Grand Junction in Mesa County was at 11.5 feet Saturday morning. Flood stage is 13 feet, and the river is expected to rise to 11.8 feet early Sunday morning.
Temperatures in western Colorado and mountain areas are expected to cool slightly later Saturday into Sunday, however temperatures in the 70s and 80s are still expected. The warmer temperatures of the past week have increased the seasonal snowmelt in many Colorado mountain areas.
There is some potential for flash flooding over the east central and northeast Colorado plains Saturday afternoon as thunderstorms - some potentially severe - impact the region.