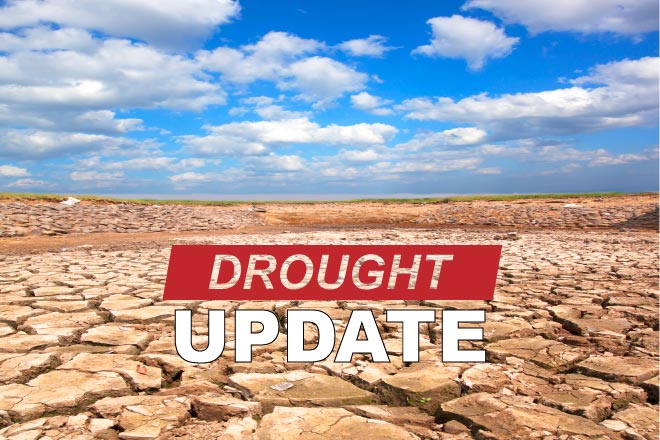 Published
Friday, March 26, 2021
Additional moisture following a major snowstorm two weeks ago has provided additional drought relief to portions of Colorado's eastern plains and mountain areas according to the latest update from the National Drought Mitigation Center.
The most notable change appeared in southwest El Paso County, where extreme drought decreased two categories to moderate conditions. Southern Teller and a small portion of northern Pueblo counties experienced a similar two category improvement.
Elsewhere in El Paso, Elbert, Lincoln, Pueblo, Prowers and Crowley counties, extreme drought moved into the severe category. Extreme conditions also decreased in Baca and Las Animas counties.
Central Kiowa County remained in extreme drought, while a small area of extreme conditions in the northwest of the county moved to severe.
Areas of abnormally dry conditions expanded to replace moderate drought in the San Luis Valley and northern Colorado. Abnormally dry conditions also appeared in southern Yuma and eastern Kit Carson counties.
No improvement was noted in western Colorado, which has been dominated by extreme and exceptional drought for months.
Recent heavy snowfall brought snow water content close to average for mid-March across most of Colorado despite the ongoing areas of significant drought.
Overall, 15 percent of the state is in exceptional drought, unchanged from the prior week. Extreme drought fell from 24 percent to 17, while severe conditions dropped to 30 percent from 33. Moderate drought increased from 24 to 30 percent, while abnormally dry conditions increased from four to seven percent, offsetting areas of more significant drought. None of Colorado is free from drought. Percentages do not total 100 due to rounding.
Just over 4.6 million people in Colorado are in drought-impacted areas, down from nearly 4.8 million last week.
Early in the summer of 2019, the state was in an eight-week span of drought-free conditions - the first time Colorado had been clear from all levels of drought and abnormally dry conditions since records became available starting in 2000. As much as 77 percent of the state has fallen into the extreme and exceptional categories within the past year.
Drought classes include (ranked from least to most severe) D0 - abnormally dry, D1 - moderate, D2 - severe, D3 - extreme, and D4 - exceptional drought.
Colorado Drought by the Numbers

Week

Date

None

D0

D1

D2

D3

D4

Current

3/23/21

0

7

30

30

17

15

Last Week

3/16/21

0

4

24

33

24

15

3 Months Ago

12/22/20

0

0

6

18

49

28

Start of Calendar Year

12/29/20

0

0

6

18

49

28

Start of Water Year

9/29/20

0

1

10

36

50

3

One Year Ago

3/24/20

30

24

43

3

0

0