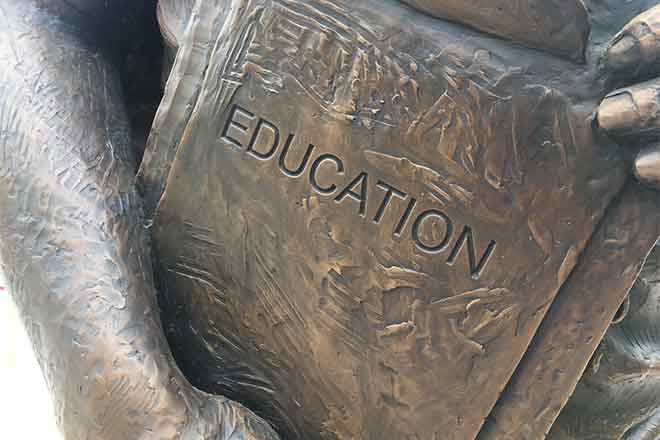 Published
Sunday, January 19, 2020
Montana State University has announced its undergraduate honor rolls for fall semester 2019.
There are two MSU honor roll lists: the President's List and the Dean's List. To be eligible for the lists, students must be enrolled in 12 college-level credits. This list was current as of January 14 and includes all registration corrections or grade changes processed to that date.
The 1,261 students with a perfect 4.0 grade point average for the semester were named to the President's List. An asterisk follows their names below.
The Dean's List includes the 3,643 students earning grade point averages of 3.5 or above for the semester.
Colorado students named to MSU's President's or Dean's lists, ordered according to their hometowns, follow.
Alma: Emma Braggins
Arvada: Keara Buchanan, Erin Carroll, Samuel Howell, Alastair Lewis*, Fiona Lewis, Jenna Reichert*, Cameron Smith, Bryan Suchey*, Ashley Van Sickle, Francesca Welter
Aurora: Collin Hohman Reimer, Zachary Kauffman, Alyssa McKenna, Kyrie Moriarity, Lauren Nelson*, JoAnna OConnell, Sarah Peterson, Kelly Rebollo, Natalie Waddington, Evan Wood, Camden Young-Scovill*
Avon: Jacob Vickerman
Bailey: Joshua Seidler II
Bayfield: Joseph Thomson
Bellvue: Dane Johnson
Berthoud: Tory Johnson, Sidney Strizki
Boulder: Ossie Barton, Sean Barton, Beau Baxter, Zoe Benedict, Isaiah Cormier, Dominic Corradino, Cassidy Crittenden, Cameron Dudiak*, James Dufficy, Adam Eckler, Stuart Edgerly, Alexander Fluegel, Lily Gallagher, Jordan Grant-Krenz, Elias Hendricks, Anna Hildebrandt, Reid Hill, Brock Klomhaus, Maxwell Lineberger, Lachlan McGrath, Maxene McNice, Carter Moffitt, Juliette Moore, William Roberts, Samuel Rosenbaum, Jakob Rundell, John Tompkins, Grace Wynne*, Claire Zuetell
Breckenridge: Cole Buller, Sarah Lorch*, Paige Schlegel
Brighton: Tiana Linkus*, Lindsey Wadsworth*
Broomfield: Shannon Hamp*, Kenya Hougen, John Irwin*, Alyssa Laschinger*
Canon City: Margaret Branine
Carbondale: Spencer Ellsperman, Lou Grange, Robin Greenfield, Colin Hipona, Lily Meadows
Castle Pines: Bray Polkinghorne
Castle Rock: Spencer Benjamin, Mark Gautier, Emily MacLean, Alexis Printz, Josephine Rodrigue
Centennial: Hunter Ackerly, Kayleigh Andrews, Tyler Boyd, Spencer Cobb, Alexander Hershey, Alison Hickey, Abigail Hustis, Margaret Kerr, Sarah Lane*, Kate Leeuwenburg, Grace Maddock, Evan Ross, Chlotille Scheckel, Delaney Smith*, Gage Voss
Clifton: Brandon Kennedy
Colorado City: Kyle Kennerson
Colorado Springs: Haley Batron, Jacob Beman*, Daniel Borchert, Camille Burroughs*, Jackson Connors, Kayla Creelman, Andrew Doughty, Brianna Fett*, Patrick Gould*, Devon Gwynn, Chad Hawthorne, Anya Joyce, Quinn Krause, Kanoe Lyons, Matthew Magoon*, Lion Mason*, Corinne Moss, Sydney Panek, Jessica Plenz*, Sabrina Plenz, Katherine Rabago, Max Raber, Matthew Spory, Oliana Squires, Erynne Stone, Michael Watson
Conifer: Jonathan Landin, Ethan Miller*, Zoe Peterson
Crested Butte: Marlee Brooks*, Gage Meredith
Delta: Makenzie Fry*, Kaitlynn Richman
Denver: Tyler Angelo, Natalie Ayers, Ryder Bechtold, Ashleigh Bol*, Kathryn Durgan, Sebastian Gralla, Parker LaCasse, Finlay Larson, Zane Leaver*, Owen Miller, William Monaghan, Kaitlin Mullowney, Rebecca Savage, George Schwarz, Audrey Smith
Dillon: Mckenna Ramsay
Durango: Caeley McClain, Holly Redmond, Raeden Shanks, Geoffrey Steiner
Eagle: Maxwell Clark, Alex Davis, Marika Feduschak
Eaton: Eli Grossenbacher, Karalee Kothe*
Edwards: Caleb Chicoine
Elbert: Priscilla Palis
Elizabeth: Zachary Imel, Douglas McCleish
Englewood: Sultan Almutairi, Jennifer Groene, Isabella Pritchard, Colton Vick
Erie: Kate Berg, Katherine Cannady, John Dickson, Garion Hall, Cole Knudsen, Matthew Krueger, Magdalena Miecznik, Evan Schek, Heather Smith*, Corby Tobin
Estes Park: Connor Flanery, Simone Paul
Evergreen: Alexander Alvarez, Lauren Chavez, Ryen Dalvit, Katelyn Debloois*, Rachel Elander, Nicole Ellis, Sean Hennessy, Jamie Hoy, Thomas Kling, Darby May, Shannon Muenchow, Thomas Nations*, Jack Pearlman, Jack Pearson, Kylee Petrik*, Matthew Ronder, Maren Stubenvoll*, August Thompson, Jacob Zimmerer*
Fort Collins: Kyra Adamson*, Addie Brown, Neil David, Karenna Doctor, Warren Doyle*, Blake Dragan*, Margaret Epstein, Michael Goldstrom, Emma Haines, Harley Harrison, Anna Harward*, Sadie Himot*, Kelly Kraemer, Jacey Lyon, Conor Macritchie, Natalie Mahoney, Manning Mann, Coleman Martin, Madeline May, Jaiden McFarland*, Tomas Muelling, Samantha Myxter*, Rabi Phelan, Aubrey Powell, Brook Richter, Howard Seim IV, John Siegmund*, Nathan Simianer, Maya Swanson, Madison Vigil, Sanne Westenbrink, Sofia Whitefields*, Nicholas Zachman
Frisco: Anne Parker
Glenwood Springs: Benjamin Sceats
Golden: Alexandra Ambrozic*, Arthur Battaglin*, Noah Brown*, Garrett Ceurvorst, Grant Davidson, McKelvey Davidson, Shannon Hannaway, Roxanne Holmes*, Austin Hull, Julia Lammens, Madison Larson, Ben Lemon, Rae Lemon, Connor Rice, Ally Swadburg, Morgan Westfall, Caroline Wise*
Grand Junction: Scott Dietel*
Grand Lake: Logan Rice
Greenwood Village: Parker Sampson, Matthew Simpson
Hayden: Cassidy Crawford*
Hesperus: Dakota Jones, Corbin Lyman*
Highlands Ranch: Carson Archuleta*, Gabriel Barnard, Blaire Braxton, Julia Breker, Daniel Chisholm, Kyla Dezell*, Grant Fink, William Flynn, Katelyn Johns, Kaitlyn Kropatsch, Camden Long, Megan Pepper*, Hannah Provan, Morgan Rawe, Brynn Reitter, Lyra Reynolds, Dorothy Ruoff*, Jack Sells, Hannah Van Vleet*
Hudson: Eric Martin, Randall Martin
Ignacio: Mackenzie Cates
Indian Hills: Rowan Edwards
Johnstown: Callum Kelly, Emily Severin
Kiowa: Niah Wilson*
Lafayette: Callan Holt, Logan Platt, Kyra Tilak, Emma Vernon
Lakewood: Kelly Cannici, Colton Dombroski, Michael Mawn*, Benjamin McHugh, Alex Sanders, Courtney Scott*, Makayla Stein*, Susanna Walsh, Garren West
Larkspur: Jakob Seib
Littleton: Emelyn Albright, Jacob Anton, William Baker*, Mackenzie Blatter*, Kayla Cottrell, Brett Cumming, Ryan Dicker, Jack Donelson*, Gavin Erickson*, Karsen Hickman, Justin Holmes, Nicole Irwin, Sage Jacksack, Megan Johnson*, Sara Kuzbiel, Alexander Levene, Tanner Lyle, Robert Manta, Madelyn Mettler, Holly Monroe, Zachary Motes, Charles Nicholson, Jillian Overmyer, Sydney Pearman, John Prall, Rachael Reed, Sophie Stone*, Maxwell Ten Braak*, Connor Watz, Austin Zuehlke
Lone Tree: Luke Fruchey, Logan Kennedy
Longmont: Emma Culwell, Taryn Eveland*, Leslie Grafelman, Alexandra Hellenberg, Emily Hicks, Mikayla Snyder, Logan Trujillo
Louisville: Hannah Gross, Caroline Hagelin, Jamie Lyon, Joseph Peoria
Loveland: Hannah Gilroy, Tarra Hartman, Rebecca Hennings, Landon Lees
Lyons: Sierra Tucker*
Montrose: Daniel Hurford, Gavriel Lightsey*, Luke Machale*, Maggie Machale, Megan Parker, Heather Stevenson, Kael Van Buskirk
Monument: Anna Donisi, Dylan Hudson*, Jaydes Warwick
Morrison: Kellie Geschwentner, Ian Off, Sonja Singelstad
Niwot: Benjamin Karbassi, Rebecca Klatt
Northglenn: Kendra Olmstead*
Paonia: Dillon Sapena
Parker: Gordon Calhoun*, Kaylin Clark, William Goldsmidt, Palmer Jewell, Henry Longa, Emma Reimann, Derek Rodell, Colin Schutte, Abigail Zimmerman
Peyton: Skylee Laser
Pine: Callie Grawe*, Paige Ringelberg*
Placerville: Anna Fake
Pueblo: Katie Storey
Pueblo West: Ryan Miller*
Salida: Madelyn Townsend
San Acacio: Claude Peay
Sedalia: Luke Buchanan, Lauren Jackson*, Kaitlyn Winters
Steamboat Springs: Isaac Copeland, Kassidy Fischer*, Jordan Floyd*, Ellese Lupori*, Suzanne Lyon*, Sarah Miller*, Jesse Novak, Julia Romero, Riley Wilkinson*
Superior: Zachary Buick, Caroline Crouse*, Delaney Elliott*, Madison Oberbreckling, Tracey Van Hove
Telluride: Zachary Clements, Cameron Daley, Claire Pennell
Thornton: Alyssa Lockwood, Joshua Moehlenpah
USAF Academy: Virginia Beineke
Vail: Finn Andersson*, Linnea Andersson*, Taylor Brandt*, Morgan Croke, Thatcher May, Nellie Talbot
Wellington: Alyssa Jhones
Westminster: Laurel Neal, Lydia Putsch, Ashley Thompson
Windsor: Jordyn Cook, Gwyndalen Drop, Kendall Gustafson*, Zachary Liley*