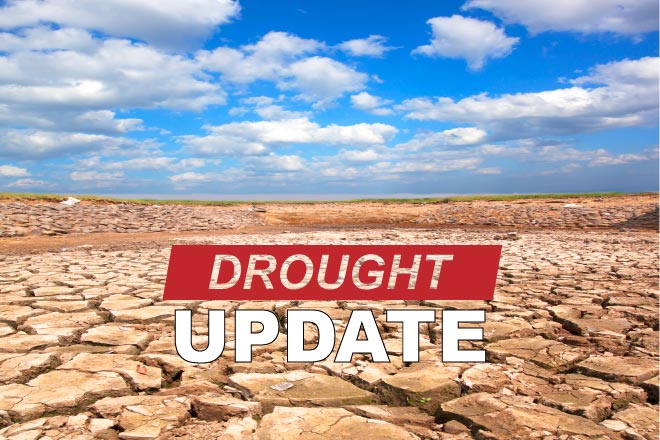 Published
Thursday, May 27, 2021
While western Colorado continues to suffer under extreme and exceptional drought, the eastern plains have been rapidly improving to nearly drought-free conditions according to the latest report from the National Drought Mitigation Center.
Thanks to recent spring storms, two pockets of moderate drought impacting portions of El Paso, Elbert, Lincoln, Kit Carson, Kiowa, Bent and Prowers counties have now retreated to abnormally dry conditions.
Along the southern border with New Mexico, moderate drought retreated from Huerfano and Costilla counties. Nearby, severe drought moved to moderate conditions for southern Las Animas and southwest Baca counties.
Drought-free conditions grew further into the San Luis Valley as well as the southeast plains.
Western Colorado has remained largely unchanged for weeks and is mostly covered with extreme and exceptional drought.
Over the past week, storms have produced as much as three inches of rain - with isolated areas receiving more - on the eastern plains. Hail and tornadoes have accompanied may of the thunderstorms.
Improvements in eastern Colorado began in mid-March as significant snow set the initial stage for relief to the area. During May, thunderstorms have continued to bring rain to the state's eastern plains, resulting in drought-free conditions for most northeast counties by last week. A remaining strip of abnormally dry conditions in northern Sedgwick County became drought-free with recent rains.
The first drought-free area in Colorado since mid-2020 appeared in late April.
Recent rounds of precipitation have improved pasture conditions to northeast counties, as well as better wheat condition in the east central area. Reports from the USDA also showed better pasture conditions in the southeast portion of Colorado.
Overall, 34 percent of the state is drought-free, up from 23 percent last week, with an additional 20 percent in abnormally dry conditions, down from 25 percent in the previous week. Moderate drought covered 11 percent of Colorado, down from 13 percent, while severe drought dropped from 10 to six percent. Extreme and exceptional drought were unchanged at 13 and 16 percent, respectively.
Just under 626,000 people in Colorado are in drought-impacted areas, down from 4.6 million in April.
One year ago, 23 percent of the state was drought-free, with an additional 12 percent experiencing abnormally dry conditions. Moderate drought was impacting another 21 percent of the state, with 26 percent in severe drought and 18 percent in extreme conditions. Exceptional drought had not yet appeared in Colorado.
Early in the summer of 2019, the state was in an eight-week span of drought-free conditions - the first time Colorado had been clear from all levels of drought and abnormally dry conditions since records became available starting in 2000. In late May of that year, the state's snow water equivalent stood at 437 percent of normal following a series of storms that brought abundant moisture across Colorado's river basins.
As much as 77 percent of the state has fallen into the extreme and exceptional categories within the past year.
Colorado Drought by the Number

Week

Date

None

D0

D1

D2

D3

D4

Current

5/25/21

34

20

11

6

13

16

Last Week

5/18/21

23

25

13

10

13

16

3 Months Ago

2/23/21

0

1

10

32

41

16

Start of Calendar Year

12/29/20

0

0

6

18

49

28

Start of Water Year

9/29/20

0

1

10

36

50

3

One Year Ago

5/26/20

23

12

21

26

18

0