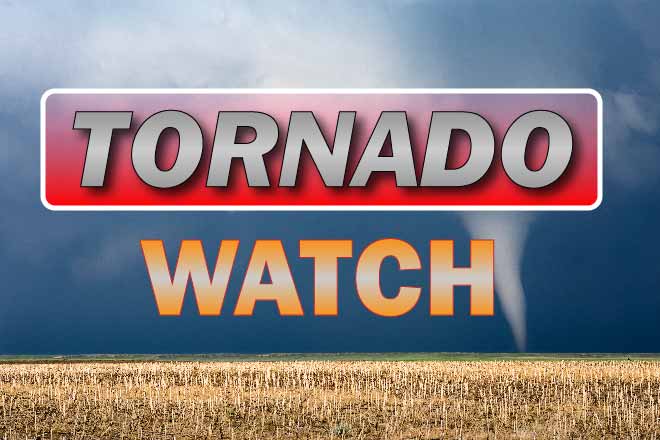 Published
Sunday, May 23, 2021
Note: This article will be updated throughout the day as conditions change.
The risk for severe weather returns Sunday after a day where the National Weather Service validated at least nine tornadoes in northeast Colorado, including three separate touchdowns from a supercell over Lincoln County.
A tornado watch was issued just after 12:00 p.m. for portions of eastern Colorado, and extended into southeast Wyoming, northwest Kansas and western Nebraska. The watch is expected to remain in effect until 8:00 p.m.
At 4:15 p.m., the NWS issued a severe thunderstorm watch for five southeast Colorado counties, including Las Animas, Baca, Prowers, Bent and Otero counties, and extended into New Mexico, Oklahoma, Texas and Kansas. That watch is set to expire at 11:00 p.m.
While the tornado watch area began to lift at 5:00 p.m., a new warning was issued in Washington county for south and east of Akron for the second time Sunday.

Radar image updates every five minutes.
The first tornado warning of the day was posted shortly before 12:30 p.m. for parts of northeast Pueblo and southeast El Paso counties where a severe thunderstorm capable of producing a tornado and quarter-inch hail was begin tracked. The warning was extended into western Lincoln and southern Elbert counties at 12:40 p.m. as radar continued to show rotation in the system.
Another warning was issued for radar-indicated rotation in an area north of Limon in Lincoln County at 1:47 p.m. That warning stretched in to portions of Elbert, Arapahoe and Washington counties.
The next warning was issued at 3:00 p.m. in Washington County in the Akron area after spotters had confirmed a tornado 10 miles southwest of the town. That warning later extended into Logan County on a path toward Sterling with radar-indicated rotation.
Seventeen Colorado counties are included in the watch, including
Adams
Arapahoe
Cheyenne
Crowley
Denver
Elbert
El Paso
Kiowa
Kit Carson
Lincoln
Logan
Morgan
Phillips
Sedgwick
Washington
Weld
Yuma
Hail up to half-dollar size is possible, along with wind gusts up to 70 miles per hour. Tornadoes are also possible for southeast Colorado, however the greatest risk is predicted for the northeast corner of the state.
The Storm Prediction Center in Norman, Oklahoma, noted a 10 percent probability of tornadoes forming within 25 miles of points in northern Colorado. The Goodland, Kansas, NWS office notes the tornado risk may the highest for the season so far. Tornadoes that do form could be long lived rather than dissipating rapidly.
Most tornado activity expected during the late afternoon, though some storms could form earlier.
Storms are expected to move from the southwest to the northeast at speeds up to 40 mph throughout the afternoon.
If you are in an area under a tornado warning, the NWS recommends that you move to a basement or an interior room on the lowest floor of a sturdy building. Avoid windows. If you are outdoors, in a mobile home, or in a vehicle, move to the closest substantial shelter and protect yourself from flying debris.