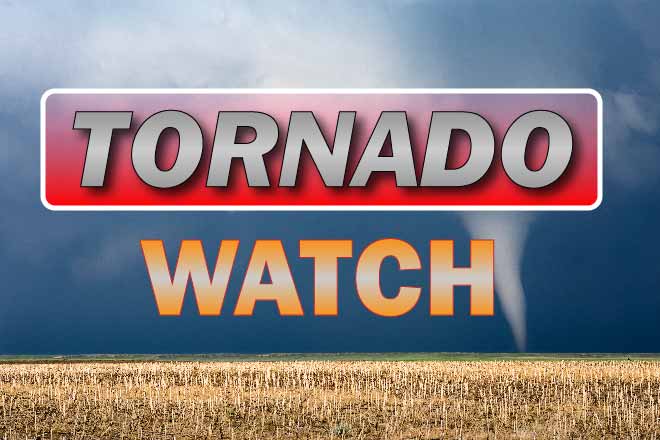 Published
Saturday, May 22, 2021
Note: Updates to this article are being posted throughout the afternoon as conditions change.
The National Weather Service has issued a tornado watch for most of eastern Colorado which is expected to be in effect until 8:00 p.m. Saturday. In addition to tornadoes, the area should expect severe thunderstorms capable of producing hail up to 2.5 inches in diameter along with wind gusts to 75 miles per hour.
The first tornado warning of the afternoon was posted around 1:30 p.m. in southeast Morgan County and included Fort Morgan and Brush. Weather spotters confirmed the tornado, which was moving north at 45 mph.
Additional warnings were issued in Morgan and Washington counties as spotters reported sightings around Akron and Midway.
The NWS also issued a tornado warning at 2:05 p.m. that straddled the Adams-Arapahoe county line south of Bennett near Interstate 70. Law enforcement reported spotting a tornado in the vacinity a few minutes later.
The first round of tornado warnings in northeast Colorado expired by 2:30 p.m. however a new warning was issued 15 minutes later, this time for Logan County east of Sterling.
Southeast Colorado's first warning was issued at 2:49 p.m. when radar indicated the potential for a tornado north of Ordway in Crowley County. A funnel cloud was reported by an NWS employee in the area just before 3:00 p.m.
That storm continued north into southern Lincoln County, where a tornado warning was issued at 3:15 p.m. Half an hour later, the warning was extended into souther Elbert County. Just before 5:00 p.m., a warning extended to Limon and Hugo, with a confirmed tornado spotted 12 miles west of Hugo. Twenty minutes earlier, a tornado was spotted eight miles north of Punkin Center.
The storm continued north, triggering a tornado warning in Washington County shortly after 6:00 p.m.
Twenty-three Colorado counties are covered by the watch, including
Adams
Arapahoe
Bent
Cheyenne
Crowley
Denver
Douglas
Elbert
El Paso
Huerfano
Kiowa
Kit Carson
Las Animas
Lincoln
Logan
Morgan
Otero
Phillips
Pueblo
Sedgwick
Washington
Weld
Yuma
Prowers and Baca counties in the far southeast corner of the state were not included in the watch as of 12:30 p.m.

Radar image updates every five minutes.
The NWS has also extended the watch into most of eastern New Mexico as well western Texas. That portion of the watch is expected to be in effect until 9:00 p.m.
A Tornado Watch means conditions are favorable for tornadoes and severe thunderstorms in and close to the watch area. Persons in these areas should be on the lookout for threatening weather conditions and listen for later statements and possible warnings.