Image
Severe T-storm watch issued - large hail, tornadoes possible Sunday
The National Weather Service is warning about the potential for strong to severe thunderstorms Sunday afternoon that could bring heavy rain, large hail and even a few weak tornadoes to northeast and east central Colorado.
Image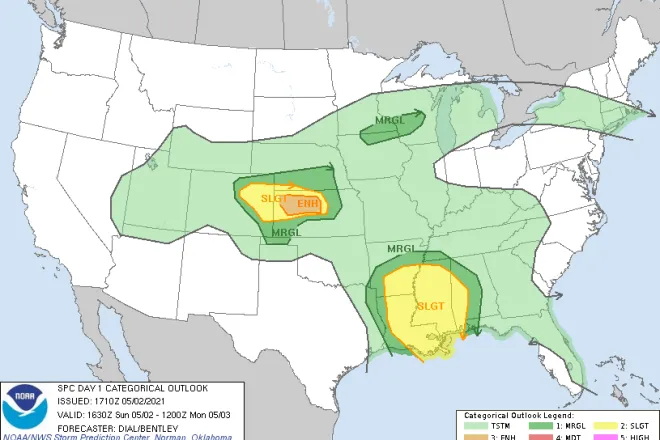 Most storms are expected to begin developing by early to mid-afternoon and continue into the early evening hours, though a few storms had begun to develop during the late morning hours along the front range.
A severe thunderstorm watch was issued shortly before noon Sunday for much of northeast and east central Colorado. Counties under the watch include Kiowa, Cheyenne, Kit Carson, Yuma, Washington, Lincoln, Crowley, El Paso, Elbert, Douglas, Arapahoe, Adams and Morgan. Shortly before 2:30 p.m., the watch was extended to include Prowers, Bent and Otero counties. The watch is expected to be in effect until 7:00 p.m.
Image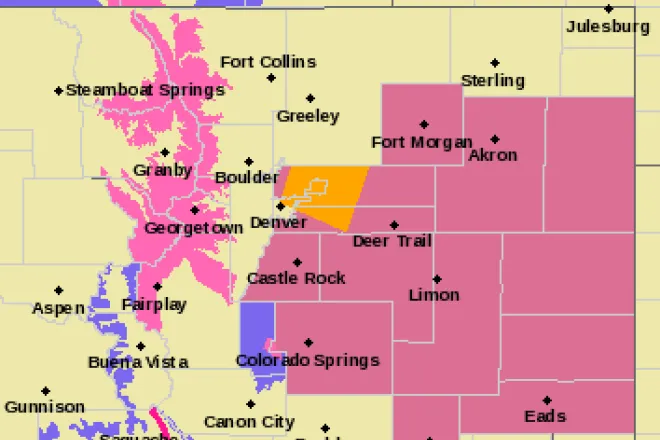 Hail between one and two inches is possible, along with a slight chance for weak landspout tornadoes. Winds associated with storms that do develop could gust up to 70 miles per hour.
Across the region, between 0.2 and 0.5 inches of rain is possible through Tuesday morning, though greater amounts are possible where thunderstorms do develop. Localized flooding is also possible. Additional rain is expected Tuesday night into Wednesday, potentially helping to further ease drought conditions.
Image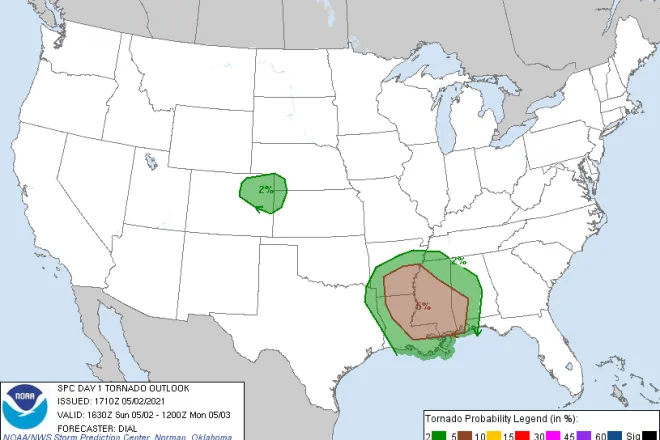 The greatest risk for large hail extends from eastern Kiowa County north to Yuma County, and west to Adams, Arapahoe and Elbert counties.
Image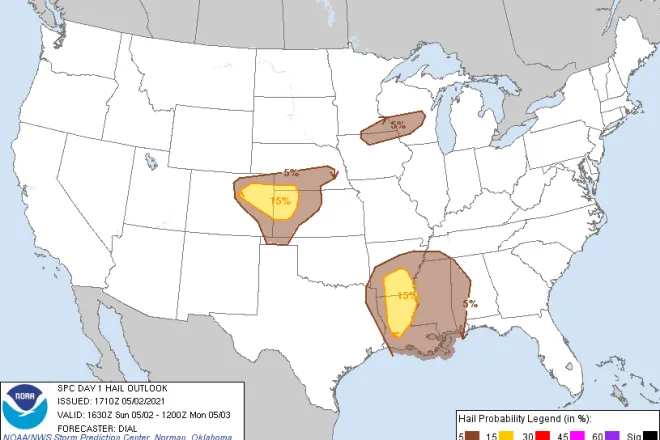 Elsewhere in Colorado, the storm system is bringing snow to mountain areas. Northern front range mountains are under a winter storm warning and can expect 7-14 inches of new snow. Winter weather advisories are in effect for the Pikes Peak region and southwest mountains.
While moisture is flowing into parts of Colorado, the San Luis Valley is under a red flag warning for high fire danger from noon until 8:00 p.m. Winds are expected to gust up to 35 mph, while relative humidity drops below 10 percent.