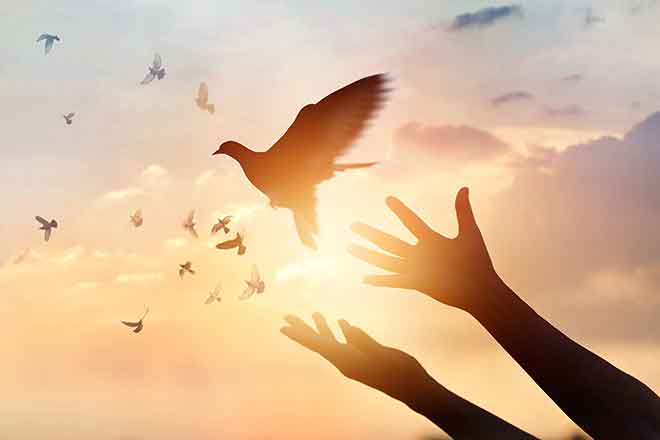 Published
Monday, May 15, 2023
1 Peter 3:13-22 (ESV)
Now who is there to harm you if you are zealous for what is good? 14But even if you should suffer for righteousness' sake, you will be blessed. Have no fear of them, nor be troubled, 15but in your hearts regard Christ the Lord as holy, always being prepared to make a defense to anyone who asks you for a reason for the hope that is in you; yet do it with gentleness and respect, 16having a good conscience, so that, when you are slandered, those who revile your good behavior in Christ may be put to shame. 17For it is better to suffer for doing good, if that should be God's will, than for doing evil. 18For Christ also suffered once for sins, the righteous for the unrighteous, that he might bring us to God, being put to death in the flesh but made alive in the spirit, 19in which he went and proclaimed to the spirits in prison, 20because they formerly did not obey, when God's patience waited in the days of Noah, while the ark was being prepared, in which a few, that is, eight persons, were brought safely through water. 21Baptism, which corresponds to this, now saves you, not as a removal of dirt from the body but as an appeal to God for a good conscience, through the resurrection of Jesus Christ, 22who has gone into heaven and is at the right hand of God, with angels, authorities, and powers having been subjected to him.
Easter is the highlight of the Christian Church year. On Easter morning, we are confronted with the Good News that Christ has won the victory over death and the devil. Yet, the Easter hope in us, because of Christ's resurrection, seems to shrink the further we get from Easter Sunday. We all know there are events that by themselves look to be hopeless. When hope seems to have floated away, when we think that we have problems, Peter directs our attention to the cross as a reminder of what real problems are all about. Those real problems (sin, death, and the devil) were ours until Jesus experienced the horrors of hell, the complete and total absence of hope and life in our stead. While pointing out that the perfectly holy and righteous Son of God was punished, though He did not deserve to be, Saint Peter is saying the reason is that we might become righteous in God's sight. So, he urges his readers to be "prepared to make a defense (give an answer), to anyone who asks you for a reason for the hope that is in you" (15).
Easter reminds us of what our hope is and what it means. It is a reminder there is always another chapter to the story. 1 Corinthians 15:20 declares the Lord's promise of never-ending life "But the truth is that Christ has been raised from death, as the guarantee that those who sleep in death will also be raised" (GNT). Thus, we can confess our Easter hope in the Apostles' Creed "I believe in . . . the resurrection of the body and the life everlasting. Amen (let it be so)." That means even though one day we will be laid in a grave; it is not the end of the story. Easter gives us the sure and certain hope, the "living hope," that all believers in Christ will be raised with Him on the Last Day to live in our eternal home in the New Heaven and the New Earth.
We have our Easter hope because Christ has won the victory. Sure, in this life we may still battle with sin, death, the devil, and their allies, but Christ has won the war. During the 40 days of Lent, we meditate upon Christ's suffering and death, but we remember His victory over death and the devil for 50 days, because Easter is greater than Good Friday. The "living hope" we share in our lives of witness and service is the message of salvation! the Good News "Christ Jesus is risen indeed!". That "living hope", is the promise of new life, resurrected life, for every person who confesses Jesus Christ is Lord. Because where there is hope, Christian hope, there is life, eternal life in Christ. In the name of the Father and of the Son and of the Holy Spirit: Amen.
825 North 1st West
Cheyenne Wells, CO, 80810-0728
Sunday Service begins at 9:00 a.m.