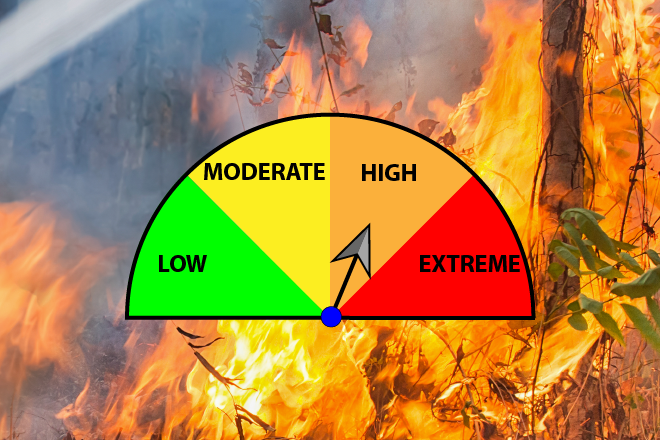 Published
Saturday, May 23, 2020
Most of the southern half of Colorado will be under a red flag warning for high fire danger starting at noon Saturday. Much of the area is also experiencing drought conditions. Outdoor burning and other activies that could spark fires are being strongly discouraged.
In Las Animas County, two fires reported this week have burned nearly 10,000 acres. The Cherry Canyon Fire was reported Wednesday and has consumed 9,602 acres according to the Rocky Mountain Area Coordination Center.
Yesterday was the first shift for our Modules on the #CherryCanyonFire near Kim, CO. The fire made an impressive 6000+ acre push yesterday due to sustained winds of around 40mph. Currently there are 4 DFPC Modules, 3 DFPC Engines, DFPC Helo & Helitack on scene #cofire #dfpcfire pic.twitter.com/Udm56J12ZJ

-- COFirePrev&Control (@COStateFire) May 22, 2020
The 466 Fire was reported Friday and has burned 114 acres. Both fires are believed to have been caused by lightning.
In most areas, the warning continues to 8:00 p.m. Saturday. In portions of southwest Colorado, the warning is expected to expire at 9:00 p.m. All or portions of 39 counties are in the warning area. The red flag conditions extend into Kansas, Oklahoma, New Mexico and Utah.
Temperatures across the eastern half of the state are forecast to be in the 80s to low 90s, while western Colorado can expect to see temperatures in the 70. Mountain areas are expected to be mainly in the 60s and 70s.
Wind is expected to be generally out of the southwest, with gusts in the 30-40 mile per hour range. Relative humidity is predicted to drop into the teens and single digits, creating conditions favorable to rapid fire growth and spread.
In far northeast counties, late day severe storms are possible after 4:00 p.m. Large hail and damaging winds are possible. Isolated tornadoes could also occur.
A freeze watch will be in effect for northwest Colorado Saturday night into Sunday morning. Temperatures in the upper 20s to low 30s are predicted.
According to the National Weather Service, a red flag warning means that critical fire weather conditions are either occurring now, or will shortly. A combination of strong winds, low relative humidity, and warm temperatures can contribute to extreme fire behavior.