Image
High wind and extreme fire danger return to southeast Colorado Sunday
National Weather Services offices serving eastern Colorado have issued red flag warnings covering all or portions of 13 counties Sunday. Strong winds are also expected across the area.
The warning comes into effect at 11:00 a.m., and is expected to continue to 7:00 p.m.
Wind gusts up to 65 miles per hour are possible, along with relative humidity falling below 10 percent. Temperatures are predicted to be in the mid- to upper 60s during the day.
Image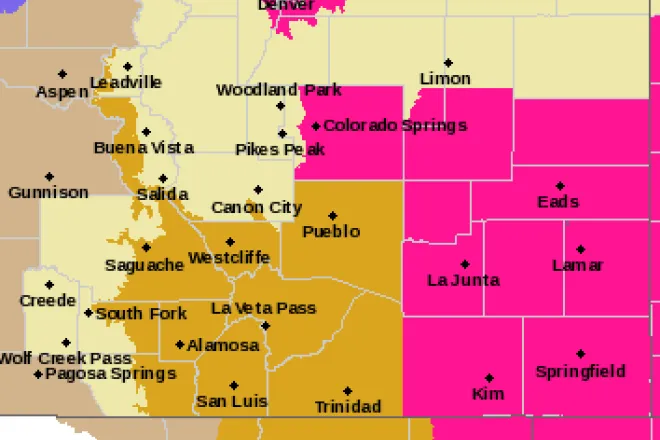 Counties covered by the warning include El Paso, Elbert, Lincoln, Cheyenne, Kiowa, Crowley, Pueblo, Huerfano, Las Animas, Otero, Bent, Prowers, and Baca counties.
The NWS office in Pueblo stresses that activities which could cause a spark and lead to a fire should be completely avoided, along with any outside burning.
Monday and Tuesday last week, similar conditions resulted in red flag warnings across the same area, though no significant fires were reported.
Portions of the San Luis Valley, southern mountains, and adjacent plains are under a high wind warning at least until 7:00 p.m. Sunday, with the warning continuing until 8:00 a.m. Monday for the southern Sangre de Cristo mountains, Huerfano County, and western Las Animas County. Wind gusts in those areas could reach as high as 75 mph.
Drought conditions continue to plague eastern Colorado, with much of the eastern half of the state at least in moderate drought. Severe, extreme, and exceptional drought stretches from southeast Cheyenne County to southeast Las Animas County. Far southeast Baca County is in exceptional drought, the worst category on the scale.
Image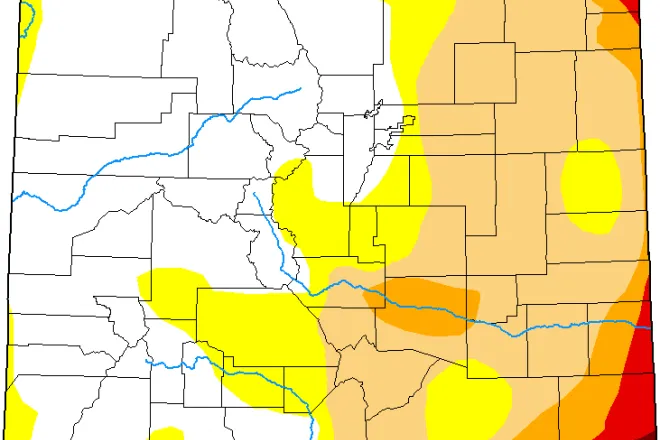 High temperatures are expected to settle back to the 40s and 50s in southeast Colorado through the work week. Snow becomes a possibility Wednesday and Thursday. 
Denver metro counties are covered by a red flag warning from 11:00 a.m. to 6:00 p.m. Sunday. In addition to the dry conditions, wind could gust as high as 50 mph.
Red flag warnings are also in effect for portions of Kansas, Oklahoma, Texas, and New Mexico Sunday.
A red flag warning means that critical fire weather conditions are either occurring now, or will shortly. A combination of strong winds, low relative humidity, and warm temperatures can contribute to extreme fire behavior.