Image
Highway 350 reopens early following bridge replacement
The Colorado Department of Transportation and its contracting partner CapitalTezak Joint Venture have finished replacing a bridge located on US Highway 350, southwest of La Junta and reopened the roadway Saturday afternoon - two days ahead of schedule.
The bridge was built in 1938, and was structurally deficient and functionally obsolete. The new bridge is a concrete box culvert and will widen the roadway.
Ensuring public safety prompted the full bridge replacement.
Image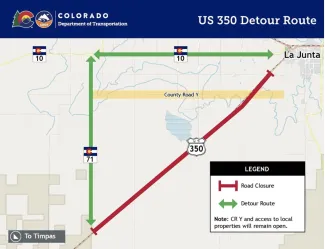 Bridge construction required closing US 350 for 21-days to minimize construction duration, and saved two months of construction time versus a single lane structure detour. Additionally, the closure resulted in decreased project costs, prevented unnecessary disturbance to the Otero Ditch Canal, and increased crew and motorist safety.
Although the closure is complete, motorists can still expect intermittent lane and shoulder closures as crews complete final construction activities, which are expected to be completed in early 2024.