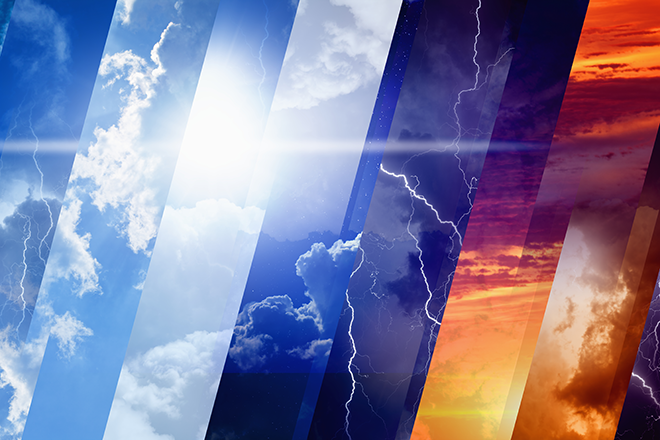 Published
Sunday, August 27, 2017
Continued hot and mostly dry conditions will continue across most of Colorado to start the work week, though a few showers may be possible for the eastern half of the state.
Eastern Colorado
Temperatures will mainly be in the mid-80s for eastern Colorado Sunday. A cold front will be moving through the eastern part of the state from late morning through the early afternoon. Expect a few afternoon and evening storms over the higher elevations producing light to moderate rain and a potential for wind gusts to 40 miles per hour.
Temperatures will be mainly in the 80s through the middle of the week as a high-pressure system remains in place, though the northeast corner around Fort Morgan and Sterling may hit the low 90s Tuesday.
Isolated to scattered showers are possible, though mainly in mountain areas.
Western Colorado
A few showers are possible Sunday in the southwest corner of Colorado while the remainder of the area remains dry and hot.
Low 90s will be the norm for the day, though Grand Junction can look for mid- to upper 90s at least until Wednesday as a high-pressure system over Utah remains firmly entrenched.
Most of the area will see overnight lows in the 50s this week, though Grand Junction will be in the mid-60s and Craig will continue to have lows in the upper 40s.
Weather updates are available throughout the day at http://KiowaCountyPress.net/weather
Forecast - August 27-30

Sunday

Monday

Tuesday

Wednesday

City

High

Low

High

Low

High

Low

High

Low

Eads

86

58

84

56

87

56

89

57

Springfield

86

58

84

56

87

56

89

57

Trinidad

82

56

81

55

84

54

84

54

Limon

84

53

83

52

87

52

87

54

Sterling

86

55

87

55

91

57

91

56

Fort Morgan

87

56

89

56

92

57

92

59

Craig

90

47

90

48

90

49

89

50

Grand Junction

97

64

96

64

95

65

95

65

Montrose

90

56

89

56

88

56

87

57

Cortez

91

54

88

53

88

53

87

54