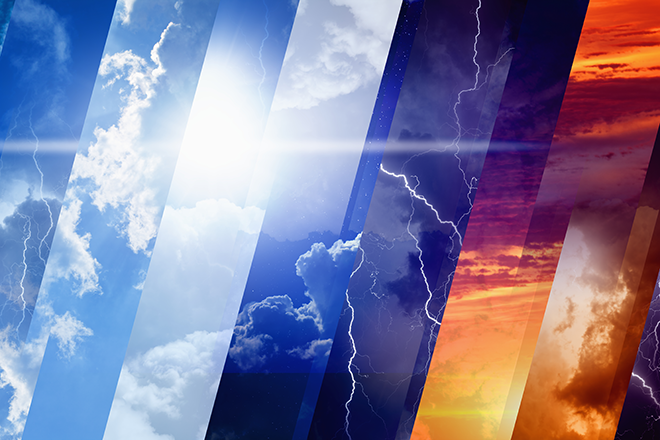 Published
Friday, July 21, 2017
Eastern Colorado will continue to bake under temperatures reaching 100 in some areas Friday, while the west watches for floods.
Eastern Colorado
The northeast part of the state can look for temperatures in the upper 90s Friday, with areas close in to the mountains remaining a few degrees cooler. Further to the south, "hot" will be the popular word of the day. Lamar can expect to break 100 again, while surrounding communities such as La Junta, Springfield, Eads and Burlington will fall a few degrees short of the century mark. The southern mountains can expect low 80s.
With a monsoon plume spreading up from Mexico over the Four Corners area and out across the plains, showers and thunderstorms can be expected develop over the mountains later in the day, spreading to parts of the plains by the late afternoon hours. Much of the northeast part of the state should watch for isolated severe thunderstorms. Crowley and Pueblo counties may also experience a few severe storms. Locally heavy rain is possible, particularly later in the afternoon, though the area south and east of Pueblo will remain mostly dry.
For the weekend, look for slight cooling as high temperatures reach the upper 80s and low 90s Saturday, and drop another few degrees Sunday. By Monday, highs will be firmly back in the 90s, continuing through the middle of the week.
The southeast plains should be prepared for an active weather day Saturday as an upslope flow, combined with monsoon moisture and a bit of instability in the atmosphere, could produce very heavy rain where thunderstorms develop.
Western Colorado
The western half of the state is under a flash flood watch Friday into the evening. Scattered, potentially numerous thunderstorms are expected to bring heavy rain to the area before a slight drying period sets in for the weekend. The flood risk will be higher Friday than for the past two days of rain. Flash flooding is more likely in steep terrain where recent rains have already soaked the soil.
Temperatures will mainly be in the mid- to upper 80s through the weekend, with Grand Junction remaining the warm spot, with temperatures in the low to mid-90s.
The drier trend is expected to continue through early Monday. Temperatures are also expected to trend upward. Later Monday into Tuesday, a new flow of moisture from the south is predicted to begin, however models disagree about the amount of moisture that can be expected. Later in the week, chances for thunderstorms increase.
Forecast - July 21-24

Friday

Saturday

Sunday

Monday

City

High

Low

High

Low

High

Low

High

Low

Eads

88

60

94

63

97

63

97

63

Springfield

88

64

94

66

96

66

95

66

Trinidad

85

61

89

61

91

62

91

61

Limon

81

58

91

58

94

60

94

60

Sterling

87

61

96

62

96

63

99

63

Fort Morgan

86

60

96

62

98

63

98

63

Craig

87

53

87

48

88

51

89

53

Grand Junction

93

67

95

66

95

66

95

68

Montrose

82

58

84

58

85

58

86

60

Cortez

86

62

85

61

85

60

85

61