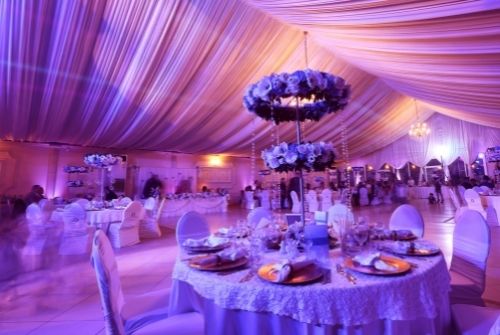 Published
Friday, August 13, 2021
Decorating for a wedding is often a do-it-yourself endeavor. You want the reception to look expertly designed without spending the money. The best way to make the wedding reception look professional is to use good lighting.
Find out here how to illuminate your wedding reception to make it unforgettable.
Table Centerpieces
The wedding guests will enjoy lights at their tables so they can see their meals and the other people around them. Candles are one of the best ways to create intimate lighting in a romantic setting. Today, most weddings use candle alternatives, such as glass candles, which are not only safer but reusable. You can sell them or hand them down to a family member once it's their turn to tie the knot.
Wedding Party Table
Everyone's eyes will be on the head table, and you can make it stand out with lights. Using everything from candles to string lights can make the wedding party table the centerpiece of the reception. Also, choose a pre-lit table that glows from within.
Hanging Lights
Immerse the wedding guests in a whole new world with hanging lights such as chandeliers, string lights, and paper lanterns. Eyes will dart around the room all night as people try to take in everything. Include additional elements like flowers or balloons to bring it all together.
Dance Floor
The lights on the dance floor will attract the guests to join you. Make sure the DJ has a good light and sound system. More than a disco ball is required to entice people to show off their moves. Kids especially love dancing with the laser lights on the floor. When kids start dancing, everyone wants to join.
Good lighting can make or break a reception. People will never forget the way the reception looked. Knowing how to illuminate your wedding reception will ensure you leave a lasting impression on the wedding guests.