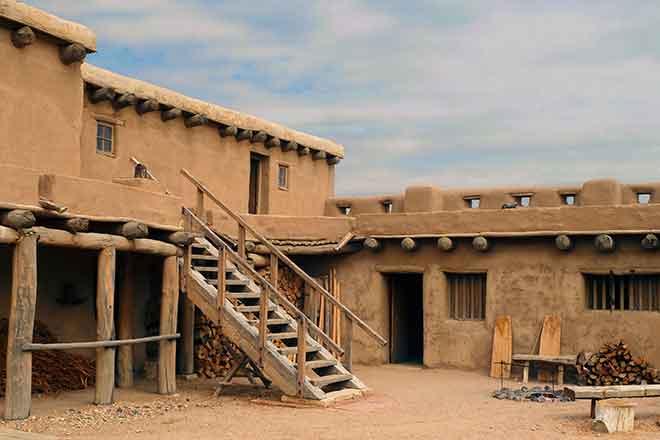 Published
Sunday, June 19, 2022
The public is invited to join the inhabitants of Bent's Old Fort Monday, July 4 from 1:00 to 4:00 p.m. to celebrate American Independence during the 2022 Old-Fashioned 4th Celebration.
The 4th of July was one of the few holidays celebrated across the country in the 1840s. The victory over the British in the War for Independence was still only a few generations in the past, and the War of 1812, which some Americans considered "a second battle for Independence" was but a few decades earlier.
The holiday will be commemorated at the fort in "1840s-style" with a parade, orations and games. Some of the cross-cultural nature of the fort will be shown with a pinata break. A replica flag that has flown over the fort will also be given away.
SCHEDULE:
1:00 p.m. Parade - the parade will be led by the park staff and livestock and will start at the visitor parking lot and travel to the fort. Raise the large flag and give a cheer for the freedoms we enjoy.
1:30 p.m. Historic Weapons Demonstration.
2:00 p.m. Tolling of the Bell to Ring In each State in the Union.
2:15 p.m. Reading of the Declaration of Independence.
2:30 p.m. Tug of War - a popular pastime of 4th of July celebrations in the East. Audience volunteers will have the chance to take on Bent, St. Vrain, & Co. Employees.
2:45 p.m. Water Bucket Relay - another popular pastime of Independence Day celebrations in the East. Kids from the audience will have the chance to compete against Bent, St. Vrain, & Co. Employees.
3:00 p.m. Pinata Break - kids can try to break the jug to get some candy - Fort Plaza.
3:30 p.m. Flag Give-away - enter a drawing for a 27-star flag that has flown over the fort - register when you enter the fort - fort plaza.
The park's fee of $10 per person aged 16 and up will apply. Kids 15 and under are free. All National Park Passes are honored. Fees will be collected at the fort entrance.
As always, visitors should be prepared for the weather. Water, sunscreen, and comfortable walking shoes are recommended.
Bent's Old Fort National Historic Site is located on Colorado Highway 194, eight miles east of La Junta or 15 miles west of Las Animas. For more information, visit the park's website at www.nps.gov/beol and click on "Special Events" or call the park at (719) 383-5010.