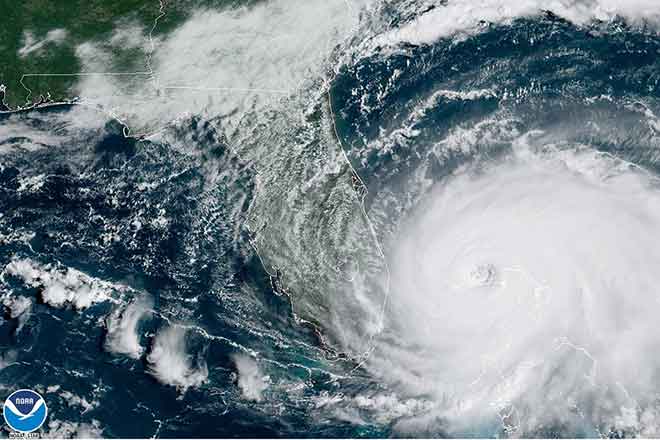 Published
Monday, September 2, 2019
By Dan McCaleb | The Center Square
The outer edge of Hurricane Dorian's destructive winds are expected to make landfall in the U.S. Monday night as the slow-moving Category 5 storm continues to batter the Bahamas.
A 7:00 a.m. Monday bulletin from the National Hurricane Center said wind gusts were reaching 200 mph and a storm surge 18 to 23 feet above normal tide levels with destructive waves were pounding the islands.
"These hazards will continue over Grand Bahama Island during most of the day, causing extreme destruction on the island," the bulletin said.
Dorian was about 120 miles east of West Palm Beech, Fla., as of 7 a.m. The hurricane was moving slowly westward toward Florida's coast, though predictions vary on exactly where the major storm will make landfall, with Florida, Georgia and the Carolinas on alert.
Video shared on Twitter showed destroyed homes and vehicles and downed power lines on the Abaco Islands. At least one death, an 8-year-old boy, was reported on the islands. The boy's grandmother told local media that he drowned.
A statement from International Federation of Red Cross and Red Crescent Societies (IFRC) said as many as 13,000 homes were severely damaged or destroyed.
"We don't yet have a complete picture of what has happened," IFRC head Sune Bulow. "But it is clear that Hurricane Dorian has had a catastrophic impact. We anticipate extensive shelter needs, alongside the need for short-term economic support, as well as for clean water and health assistance."
About 500 families will receive emergency shelter assistance, including tarpaulins, blankets, kitchen sets, and solar cell phone chargers, the IRFC said.
As the hurricane now moves toward the U.S. Southeast Coast, the Red Cross said as many as 19 million people live in areas that could be impacted by the storm. Residents in Florida, Georgia and South Carolina were urged to be on alert.
"A slow westward to west-northwestward motion is forecast during the next day or so, followed by a gradual turn toward the northwest and north," the Hurricane Center said. "On this track, the core of extremely dangerous Hurricane Dorian will continue to pound Grand Bahama Island through much of today and tonight. The hurricane will move dangerously close to the Florida east coast tonight through Wednesday evening."