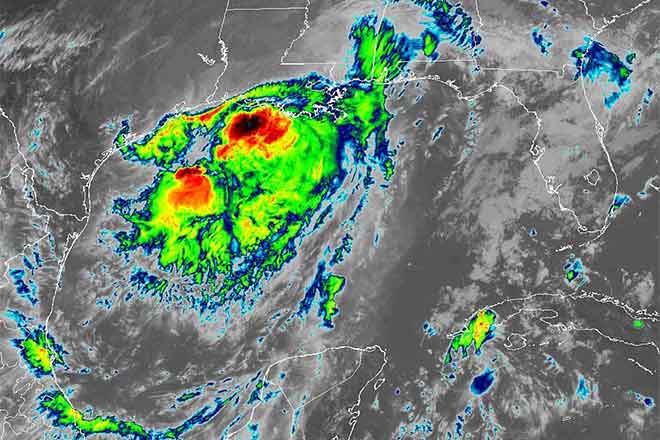 Published
Saturday, July 13, 2019
By David Jacobs | The Center Square
Hurricane Barry weakened to tropical storm strength as it made landfall near Intracoastal City, Louisiana, early Saturday afternoon, though rain, flooding and storm surge continue across the north-central Gulf Coast, the National Hurricane Center says.
"This is just the beginning," said Louisiana Gov. John Bel Edwards. "The vast majority of the rain that is falling right now is falling in the Gulf. That will soon change."
Edwards said the Comite River near Baton Rouge is expected to crest near, or maybe even slightly higher, than the level it reached during the devastating 2016 flood.
"That is obviously not good news," he said.
In much better news, the projected crest at the Carrollton Gauge near New Orleans is expected to top out at 17.1 feet, well below the top of the levee. There have been no levee failures anywhere in the state, and none of the Mississippi River levees have been overtopped, state officials said.
"All hurricane-protection systems and hurricane risk-reduction systems are currently operating as they need to be," said Chip Kline, chairman of the Coastal Protection and Restoration Authority.
Two levees have been overtopped: one in Plaquemines Parish and one in Terrebonne. In both cases the overflow was expected, so residents evacuated and emergency equipment and personnel were in place, officials said.
The Coast Guard rescued 11 people trapped by rising water in Terrebonne Parish, Edwards said. An earlier local report said 12 people were rescued. No other search-and-rescue operations have been reported so far, though more are anticipated.
About 24 moveable bridges have been closed, said Shawn Wilson, secretary of the Department of Transportation and Development. Department of Children and Family Services Secretary Marketa Walters said 28 shelters are open statewide and 315 people spent the night in shelters Friday night.