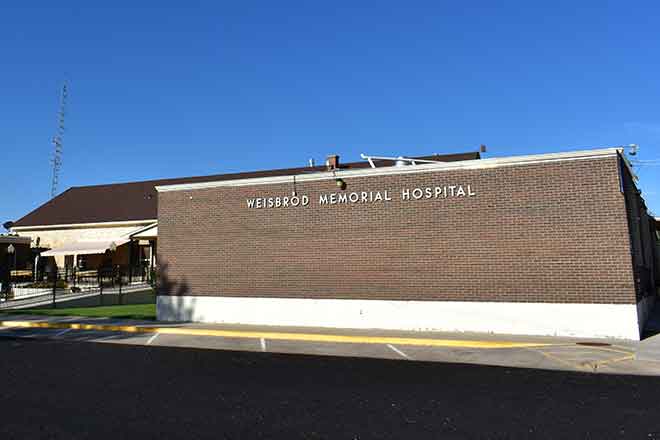 Published
Friday, November 15, 2019
BOARD MEETING
September 24,2019
The Kiowa County Hospital District and County Board met in regular session on September 24, 2019 at 6:33 p.m. at the Bransgrove Building Meeting Room.
District Board members present were: Mary Eikner, Dennis Pearson, Cathryn Anderson and Priscilla Waggoner. Absent: Sylvia Shields (called).
County Board members present were: Kevin Davis, Ken Flory, Craig Kerfoot and Whitney Barnett. Absent: John Negley (called).
Others present: Shannon Dixon, Char Korrell, Ellen Lane and Beth Spady.
CALL TO ORDER
The meeting was called to order by Priscilla Waggoner, Chairman of the Board at 6:33 pm.
COUNTY VOTING MEMBER SELECTION
Kevin Davis, Craig Kerfoot and Whitney Barnett.
APPROVAL OF MINUTES
A motion was made by Mary Eikner to approve the August 27, 2019 minutes as presented. Motion seconded by Craig Kerfoot. All aye.
APPROVAL OF AGENDA
A motion was made by Mary Eikner to approve the agenda with the addition of an executive session. Motion seconded by Cathryn Anderson. All aye.
PUBLIC COMMENT
No one was present for public comment.
CREDENTIALING
There were no credentialing files to review this month.
POLICIES & PROCEDURES
The Board reviewed and discussed the summary of revisions to several nursing and personnel policies. All policies were reviewed by the Policy Committee and approved by Med Staff. A motion was made by Craig Kerfoot to approve all policies as presented and seconded by Mary Eikner. All aye.
STANDING REPORTS
CEO
The Hospital Transformation Project report has been submitted to the State. We are waiting for their response. KCHD appreciates the input received from the community through completion of the surveys and attendance at the HTP meetings.
The boilers are currently being installed but the pumps have been placed on back order. One boiler will remain operational at all times during the replacement process. We are looking for a contractor who can begin the brick project at the south side entrance.
KCHD staff participated in an emergency preparedness full scale exercise with several community partners on Saturday, September 28. We should receive an after action report to help identify our response strengths and areas of improvement.
Eads Medical Clinic is now offering hormone replacement therapy and genetic swab tests that indicate which medications might be more effective/beneficial for an individual based on their genetic makeup.
CFO
The August financials were reviewed and showed a loss for the month. In August, days cash on hand was 159 and days in AR was 67. Our cost report has been adjusted and resulted in a net payment of $53,000 to KCHD.
The Board reviewed several options related to the purchase of a tractor to be used for maintenance of the Hospital grounds. After discussion, a motion was made by Mary Eikner to approve the purchase of a tractor not to exceed $20,000 only after other options to include contract services had been explored. Cathryn Anderson seconded the motion. Aye -Mary Eikner, Dennis Pearson, Cathryn Anderson, Priscilla Waggoner, Whitney Barnett and Kevin Davis. Nay - Craig Kerfoot. Motion carries.
CNO
Staff is continuing to identify areas that might improve our inpatient and swing bed return rate.
KCHD received our new vent/BIPAP. Staff will receive education and training in the next few months prior to the machine being used.
The Eastern Plains Healthcare Consortium is closer to implementing the staff sharing program.
HOSPITAL QUALITY & SAFETY
The Quality Report Scorecard was reviewed. There was one med error. There were three falls with no injuries noted. We have one decubitus ulcer.
OLD BUSINESS
AVERAeCARE
KCHD went live with Avera eCare on August 28th and has received positive feedback to this point. Staff report it to be very helpful with medication and documentation.
Jessica Hyman, NP and Dawn Back, PA will resume call starting in October of 2019.
DEPARTMENT OF LOCAL AFFAIRS (DOLA)
KCHD continues to receive donations in support of the infrastructure project.
KCHD anticipate a meeting with DOLA to further discuss the proposal around the first part of November 2019.
NEW BUSINESS
BUDGET FY20
A preliminary budget was presented to the Board for 2020. KCHD staff will be working to gather information from each department regarding capital items as well as day to day expenses.
EXECUTIVE SESSION
A motion was made by Mary Eikner to go in to executive session to consider the purchase of property interest pursuant to and as permitted by CRS 24-6-402(4)(a) and Cathryn Anderson seconded the motion.
Executive session convened at 7:41 pm and was returned to regular session at 8:11 pm.
ADJOURNMENT
The meeting was adjourned at 8:13 pm. Motion by Mary Eikner and seconded by Cathryn Anderson. Allaye.
Respectfully submitted,
Kiowa County Hospital District Board Sylvia Shields, Secretary-Treasurer