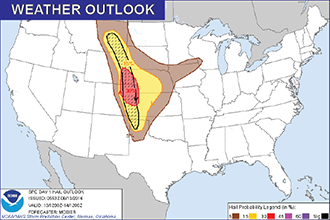 Published
Monday, June 13, 2016
By Chris Sorensen
Supercell thunderstorms are possible Monday, bringing the potential for strong winds, two inch hail and even tornadoes to the area north of Highway 50.
A front will lie near the Arkansas River corridor by early afternoon, bringing very unstable air. Severe storms are expected to make their way east across Colorado's plains. The risk of severe weather will rise to 50 percent by early afternoon, and further increase to 60 percent into the evening. One-tenth to one-quarter inch of rain is possible, with substantially higher amounts in areas impacted by thunderstorms.
Keep a close eye on changing weather conditions, and expected watches and warnings to be issued starting by early afternoon.