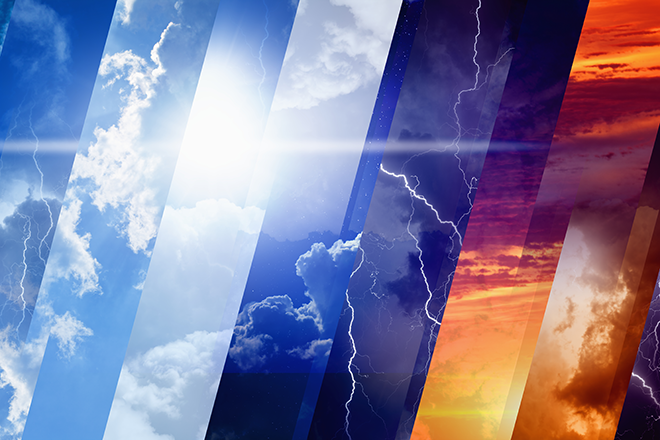 Published
Friday, August 2, 2019
The annual, summertime monsoon across the western United States will shrink in coverage over the upcoming weekend before expanding northward again next week.
The monsoon season across the West runs from June to September. This year's season started later than normal due to an unseasonable weather pattern during June. Coverage, however, picked up during the month of July.
The delay in the start of the monsoon has led to numerous locations experiencing below normal precipitation levels since June 1.
Phoenix and Flagstaff, Arizona, have received less than 25 percent of their normal rainfall since the beginning of June. As of Aug. 1, Salt Lake City has only received 35 percent.
Farther north, Boise, Idaho, has received only 0.05 inches of rain since June 1. The city normally receives just over 1 inch of rainfall during this span.
The upcoming weather pattern will limit most of the thunderstorm activity to the Four Corners states this weekend.
"An area of high pressure over the West will continue to aid in thunderstorm development, but the overall coverage will lessen when compared to earlier in the week," AccuWeather Meteorologist Ryan Adamson said.
A storm system moving across southern Canada will also push a weak cold front across the Pacific Northwest and northern Rockies. This will disrupt the flow of moisture across these areas over the weekend. While there could still be an isolated shower or thunderstorm over the weekend, most of the region will escape rain-free.
While the Northwest dries out, thunderstorms will continue across the Four Corners states.
"A piece of energy in the mid-levels of the atmosphere will rotate over the Four Corners states this weekend, which will cause showers and thunderstorms to become more numerous, even across some lower elevations," Adamson said.
Flagstaff, Arizona, and Albuquerque, New Mexico, are some of the more populated cities that can receive one or multiple rounds of thunderstorms over the weekend.
Rainfall rates in any heavy downpour can reach 1 inch per hour.
"This is more than enough rain to cause flash flooding of countryside dry stream beds, called arroyos, and overwhelm storm drains in the large cities and small towns," AccuWeather Senior Meteorologist Alex Sosnowski said.
Phoenix, Salt Lake City and Las Vegas may miss out on these thunderstorms entirely.
In the absence of any heavy rain, any lightning strike can increase the risk for the development of a wildfire.
Hikers will want to be alert for rapidly changing weather conditions and seek shelter at the first sight of lightning or rumble of thunder."