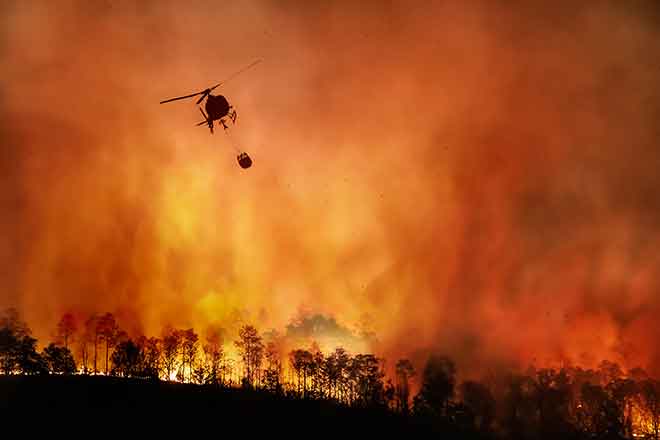 Published
Thursday, June 22, 2023
(Big Sky Connection) Montana has dispatched emergency crews to help fight raging wildfires north of its border, under an agreement allowing northern U.S. states and southern Canadian provinces to work together to battle wildland blazes.
It is the first time this season the Northwest Compact has been used, but there is precedent for Canadian crews doing the same for the U.S. The agreement enables U.S. states, Canadian provinces and territories to share technology and resources to address wildfires across international borders.
The Compact has been in place for five years, and this is the third time Montana has dispatched firefighters to Canada.
Cory Calnan, deputy chief of the Fire Protection Bureau for the Montana Department of Natural Resources and Conservation, said the state has sent about two dozen hand crews to help for the first time this year.
"Hand crews are typically assigned directly to fire line operations and fire perimeter control," Calnan explained. "The crew will be digging what they call 'fire guards' in Canada, establishing pumps and hose lays and really trying to limit the fire's spread."
The crews have been sent to Alberta, which shares a border with Montana. Calnan pointed out through the Compact, Canada has sent resources to Montana during active local wildfires seasons, and the state sees it as fulfilling the Compact, and returning a favor.
Calnan noted the Montana firefighters will get some training when they arrive in Alberta, since terminology can differ between U.S. and Canadian fire crews. He added different geography, climate and terrain create a varied approach to fighting the flames.
"Fuel types in Canada are very different than what we're used to here in Montana," Calnan stressed. "Just being aware of how things work and operate there. When we move north in latitude, things are much different up there and require just a little bit of a different tactic and approach, but flames are flames."
The Northwest Compact has been in operation since 2018.