Image
Image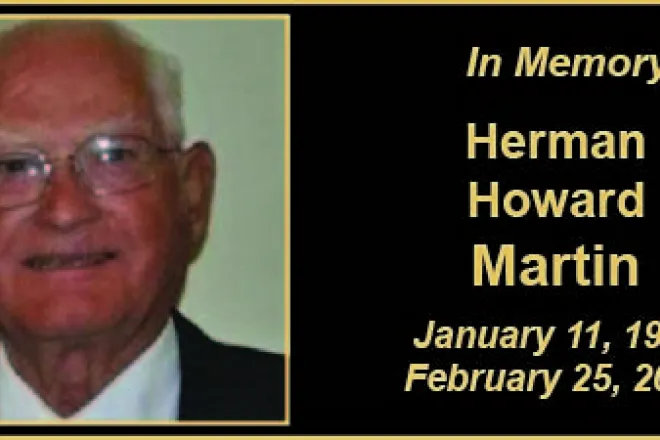 Herman Howard Martin went home to be with his Savior February 25, 2023, with his family around him at home.  He was born January 11, 1934, in Booker, Texas, to Franklin and Elda (Barrada) Martin.  The family moved to Arapahoe when Herman was in sixth grade.  He had two brothers, Franklin and Ivan, and one sister, Elaine. Herman graduated from Arapahoe High School and then went to San Jose Bible College in California for one year.
June 13, 1953, Herman married his high school sweetheart, Betty Ann Baker. He served in the Army for two years, based in California and France.  After his military service, Herman went to Panhandle State College and received his teaching certificate.  He taught two years in Towner, 25 years in Arapahoe, and three years in Cheyenne Wells.  During those 30 years, Herman taught many grades, both junior high and high school; and was also principal for two years in Arapahoe and three years in Cheyenne Wells.
Besides being a teacher, Herman was a farmer and carpenter. He was best known for "Martin-izing" anything and everything.  Herman had many hobbies, including going to auctions, traveling, and just plain piddling in his shop. There probably isn't anything in Arapahoe that Herman didn't work on.  After all, he was the "Slum Lord of Arapahoe!"  Herman also built the family home.  He had his private pilot's license and enjoyed flying a Cessna 172 airplane, using his field in Arapahoe as an airstrip.
Herman's love for the Lord's work took him on many mission trips: working with a doctor in Haiti, building houses in Mexico, working on buildings and butchering chickens at the Shiloh Children's Home in Missouri, and working at a homeless shelter in Denver.  He was always willing to do anything for anyone in Arapahoe and the surrounding community.
Herman preceded in death by his parents, Franklin and Elda; brother, Ivan; father and mother-in-law Chet and Aletha Baker; sisters-in-law Gwendola and husband, Roy Robinson, Flo Baker and Carole Martin; brothers-in-law Mont January, Jack Halde and Bobby McCoy; son-in-law Carl Harmon; and grandson Travis Martin.
Herman is survived by his wife, Betty; children, Doug of Arapahoe, Randy (fiancé Terry) of Broomfield, Deanne (Bryan) McKinney of Weskan, Kansas, Lori Harmon of Arapahoe, and Greg (Pattie) of Arapahoe; 10 grandchildren; 13 great grandchildren; brother, Franklin of Greeley; sister, Elaine McCoy of Creswell, Oregon; and a host of nieces, nephews and extended family.
Funeral services were held Friday, March 3, 2023, at the Cheyenne Wells Christian Church.  Burial followed in the Arapahoe Cemetery.
Memorial contributions may be made to the Herman Martin Memorial Fund in care of the Eastern Colorado Bank, P.O. Box 888, Cheyenne Wells, CO  80810.
Arrangements were under the direction of Brown Funeral Home