Image
Obituary - Marlynn Kay Eikenberg
Image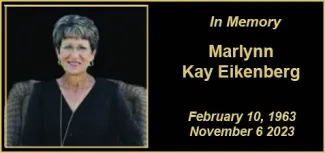 Marlynn was born February 10, 1963, in Eads to Marlin and Betty (McKnight) Eder, and passed away at her home in Haswell November 6, 2023, with her family by her side.
At the time of her birth, she was welcomed home by big brother Lonnie in which she formed a close bond throughout her life. This close bond was formed because of mischievous adventures and normal sibling rivalry.
Throughout her childhood, Marlynn attended Eads public schools from which she graduated in May of 1981. During her time at Eads Schools, she participated in a variety of sports, including cheerleading, basketball, track and field, and volleyball. Also, while being a student athlete, she was a member of a variety of school organized groups and clubs. At home, her childhood consisted of fond memories of riding her horse, Bullet, while spending time at the home of her grandparents, Raymond and Hannah Eder.
In 1981, Marlynn married Terry Gibbs of Kit Carson. To this union, two children were born. July 3, 1982, Haley Dawn was born, and November 7, 1984, Casey Marlin followed.
In 1987, Marlynn and her two children relocated to Amarillo, Texas, where Marlynn expanded her career opportunities in the hospitality industry. Also during this time, her lifetime friendship with Delton Eikenberg began to progress and flourished into what would become the next chapter of her life.
In 1992, Marlynn and her two children moved to Haswell, where she resided for the remainder of her life.
July 25, 1992, Marlynn married the love of her life, Delton Eikenberg, at the home of Raymond and Hannah Eder. To this union, her third child, Dusty Ray, was born on March 27, 1993, who completed Delton and Marlynn's family.
After marrying Delton, Marlynn's priority was first raising her children, and then offering a welcoming home to all. She took great pride and spent many hours grooming her pristine yard with many flowers, bushes, trees, and yard decorations. Throughout her years of raising her children, she was involved in many of their activities, including being a mentor and number one supporter of rodeoing and sports. Because of her love for sports, Marlynn began coaching for Eads Schools, which included volleyball, basketball, and track and field. Not only did she enjoy high school sports, but she was an avid supporter of the Denver Broncos football team, so much so that she named her beloved dog, Decker, after Eric Decker.
An important aspect of Marlynn's life was her commitment to her communities. She was committed to the Eads School District by serving 20 years on the school board in which she was a part of making positive transitions. Also, while serving on the school board, she was provided the unique opportunity of handing both of her sons their high school diploma. Marlynn spent 15 years serving on the Haswell Town Council because she was devoted to the preservation of her community.
One of the many highlights of her life was becoming a Nana to her six grandchildren beginning in 2002, along with one great-grandchild in 2021 and another on the way. She always made an effort to attend their various activities.
At the conclusion of raising her children, Marlynn felt a calling to enter the medical field, where she became a CNA in 2011. She worked primarily at the Kiowa County Hospital District nursing home where she cared, supported, and enjoyed nurturing, and where she built strong relationships with the many residents until July of 2023. Along with caring for others, she devoted many hours caring for her mother, Betty, and mother-in-law, Delores.
For many years of her life, Marlynn enjoyed attending and participating in auctions, which brought out her competitive spirit bidding against opponents, which sometimes included her son, Dusty. Marlynn also enjoyed traveling near and far. Some of her travel adventures took her to Alaska, Louisville, New Orleans, Nashville, Branson, Ireland, Mexico, and Yellowstone.
Her favorite holiday was clearly Christmas. She began planning her indoor and outdoor decorating theme many months in advance. You were sure to see her showcase her hard work beginning Thanksgiving evening, which extended through the beginning of the year. She was sure to make this a special time for her family. Celebrating the birth of our savior led to her holding a strong faith for our Lord. She enjoyed attending Praise Community Church in Eads from the time of their beginning.
She is preceded in death by her father, Marlin Eder; father-in-law, Delmer Eikenberg; mother-in-law, Delores Eikenberg; paternal grandparents, Raymond and Hannah Eder; and maternal grandparents, Glenn and Helen McKnight.
Marlynn is survived by her mother, Betty Clark of Eads; husband, Delton Eikenberg of the family home in Haswell; children, Haley (Jason) Reedy of Lamar, Casey (Shannon) Gibbs of Haswell, and Dusty Eikenberg of Haswell; grandchildren, Reygan Gibbs, Kinley Reedy, Giana Gibbs, Gage Gibbs, Brock Reedy, Cheyanne (Draven) Adame; great grandson, Lincoln Adame, along with one on the way. She is also survived by her brother, Lonnie (Debbie) Eder; sisters-in-law, Delinda (Allen) Davisson, Delene (Roger) DeGroot, and Delisa (Mike) Weeks; brother-in-law, Delmar (Cindy) Eikenberg; significant other of Marlin Eder, Pat Roper; as well as numerous nieces, nephews, and a host of family and friends.
Funeral services for Marlynn Eikenberg were held November 14, 2023, at the Haswell Community Building in Haswell. Pastors Lane and Debbie Gooden officiated the service. Marlynn's niece, Kemma Alfano, provided the vocal music.
Marlynn was laid to rest in the Haswell Cemetery.
Memorial contributions should be made to the Lamar Hospice or to the Praise Community Church.
Arrangements were under the direction of Brown Funeral Home in Eads.