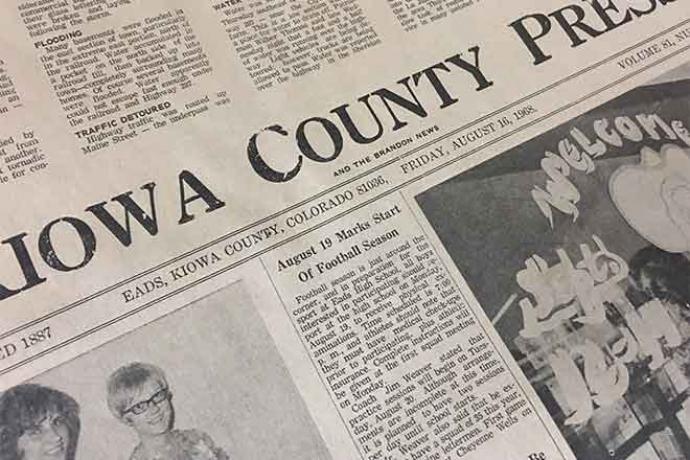 Published
Sunday, July 16, 2017
15 Years Ago
July 12, 2002
Kas Davisson, Senior Account Manager at the Federal Reserve Bank in Oklahoma City received recognition for outstanding work in 2001. She was named top sales representative in Oklahoma, and runner-up in the nation.
State health officials reported 12 cases of E. coli had been confirmed in nine Colorado counties.
Farmers Union hosted a meeting to hear how family farmers & ranchers were coping with the drought & talk about strategies to help mitigate its impact.
Wild Horse Roundup-Curtis Schrimp: Steve treated 17 of us to Rockies ballgame & fireworks. To start with, the Rockies won and I got to see Larry Walker hit one of his patented home runs.
25 Years Ago
July 9, 1992
A devastating hail storm pummeled a path through Haswell Thursday afternoon. Much of the hail was pea to marble size but very hard.
Little Britches Rodeo scheduled in Eads July 25& 26. Cowgirls and Cowboys 8-18 to compete at the Kiowa County Fairgrounds
40 Years Ago
July 15, 1977
The Kiowa County Commissioners voted to construct a hard-surfaced, lighted parking lot on county owned property across the street from Weisbrod Memorial County Hospital.
The proposed Kiowa County weed control district is dead - at least for the present
The Eads board of trustees tentatively annexed more than 21 acres of land on the north end of Eads.
Kiowa County Road Supervisor informs county farmers that damaging roadways by turning tractors with machinery upon the roadway, for example, is punishable fines up to $300. The statute will be enforced immediately.
A $5 million meat-packing plant north and east of Lamar was endorsed by LAVCOG. While there may be little impact as far as the marketing of cattle goes, it is generally felt that at least some of the $1million payroll will come our way.
Trustee Lester Williams & attorney Bob Stovall were elected as members of the Arkansas Valley Conduit Authority steering committee.
Seven Eads Babe Ruth players, Dennis Gulley, Dick Sniff, Steve Uhland, Barry Koch, Doug Uhland, Allan Watts, Brett Legg and Brad Buck, were selected to play with the league all-stars.
50 Years Ago
July 14, 1967
The Rush Creek bridge on highway 287 was threatened as heavy rains south of Hugo sent a head of water down the creek. County bridges northeast of Eads were washed out.
75 Years Ago
July 3, 1942
The mattress makers center at Eads & Sheridan Lake have closed. During the three weeks the project were opened there were made 91 mattresses and 90 comforts.
100 Years Ago
July 6, 1917
The 4th of July was observed by Kiowa County in Eads with nearly 4,000 thoroughly enjoyed the occasion. About every locality in Kiowa County was well represented. More than 300 came from Brandon and Chivington. Somewhere between 500 & 600 automobiles brought the people from far and near besides those who came on the train.
July 13,1917
A sidewalk which is the full width of that in front of stores is being put along the east side of the residence owned by Mrs. M.A. Kerr on Maine St. now occupied by W.G. Wilmot family. Contractor Peck and his men did the sidewalk work