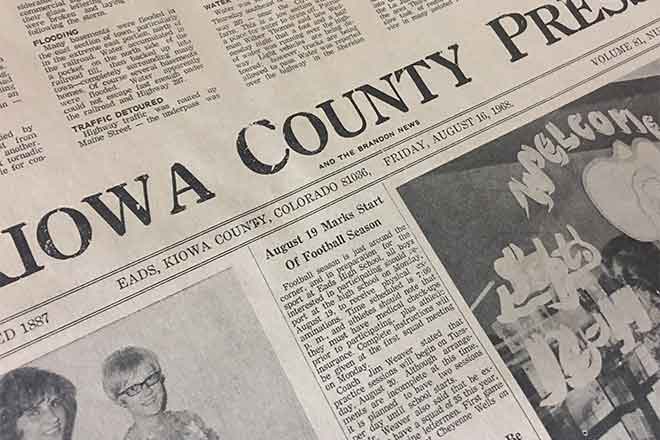 Published
Saturday, July 29, 2017
15 Years Ago
July 26, 2002
Hi-Plains Thirteen year old All Stars are the State Baseball Champions. Team members included Demetrius Gilmore, Kenan Gooden, Jacob Buck, Matt Seay and Josh Crow-Eads; Jade Downey, Justin Horn and Mike Gurule - McClave; Ty Trahern, Andrew Maxcy and Curt Connelley of Kit Carson. Coaches were Pat Ward, Bill Connelley and Lane Gooden.
25 Years Ago
July 23, 1992
Fun Full Weekend: Little Britches Rodeo; Walk-A- Thon; Maine Street lined with booths & Activities -Lutheran Youth Fruit Slush Stand, Lyons Club booth, KVAY broadcasting, Chamber Of Commerce ; Mixed Bag Fish Fry; Pie Making Contest/ Horseshoe Contest; Free Swimming at the Eads Swimming Pool; Healthmart-Roping Contest; Museum-Special Costume Contest; Dance at Legion Hall
About Town: Nice to see another drilling rig west of Eads.
The Eads Fire Department remind citizen different sirens & their meaning. Short siren at noon is way to test to insure working properly. Steady unwavering - tornado spotted. A wavering or up & down is fire or other emergency which firemen need to respond
ASCS Rod Johnson: Doug & Dusty Tallman brought a very interesting visitor to the ASCS office. Gennady Dubonosov from Volgograd is trying to obtain a better understanding of how American agriculture and farm programs work.
40 Years Ago
July 29, 1977
Tornado touches down in Kiowa County headline. Pictures shows nothing left but the foundation of a barn. Leonard Schmitt holds board impaled by the ends of electrical wire
Eads Oil Company's Shamrock service station will close the gas pumps but continue to deal in fertilizer, bulk fuel and tires.
Merline Beedy Class B and Miles Sheridan in Class C were high shooter overall in the Plains Trap League Shoot. Mary Englehardt was high lady.
A photo of Voss Truck Stop was in the Colorado magazine multi-page feature of eastern Colorado.
50 Years Ago
July 28, 1967
A passenger in the car, Harold Lloyd Heaton, better known as "Buddy Heaton" the rodeo clown, was in the rear seat asleep received a deep cut over the eye and minor bruises and abrasions. He was treated at Weisbrod Hospital and released.
Miss Debbie Krueger, daughter of Mr. & Mrs. Orville Krueger and grand-daughter of Jennie Crow, was among the 5 candidates from Denver area in the Miss World Pageant
75 Years Ago
July 24, 1942
People of Eads may expect a trial black-out most any time according to announcement by local defense officials. On the night of July 12, the state authorities tested their communication system by contacting every county seat town in the state and informed them that an actual black-out test may be expected at any time.
Friends in Eads have been told that Mr. & Mrs. M.E. Jones, formerly of Eads, have sold their big ranch on Sandy south of Chivington and expect to give possession in the near future.
100 Years Ago
July 20, 1917
The old school house has been moved to the grounds of the new high school building and will be the residence of the janitor.
The Sheridan Lake community met with quite a loss when the cheese factory burned. The cause of the fire is unknown and the insurance had just ran out a few days before so is entire loss. About $1000 worth of cheese burned in addition to the building and machinery.
Thursday evening at 8:30 o'clock occurred the marriage of Mr. Charles Wolover to Miss Lizzie A. Goff at the M.E. parsonage. The couple are among Kiowa County's best know people. Mr. Wolover was a number of years county commissioner from the east end and Miss Goff ran a hotel at Eads.