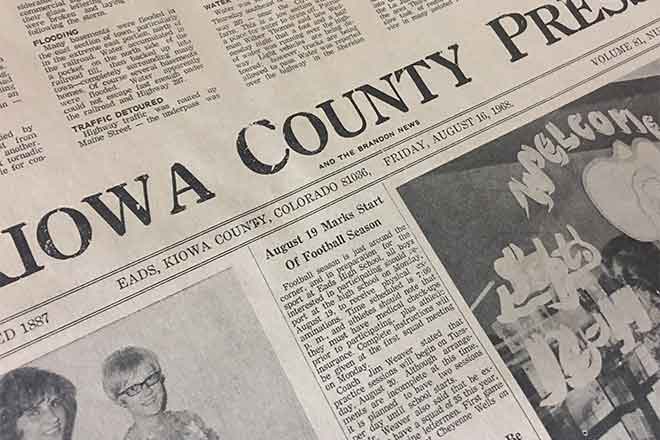 Published
Wednesday, September 6, 2017
15 Years Ago
September 6, 2002
The Kiowa County Public Library catalog can now be found online. A long time coming, but finally, the Colorado Nexus Project has accomplished its goal.
Baby Bear Hugs is holding a Cute Baby Contest during the Kiowa County Fair. The contest is open to all children age 0-3 who are Kiowa County residents.
Sheridan Lake Review-Else White: Mrs. Jay Coffman is starting her 20th year as head cook at the Plainview School. Mrs. Dick Scott her co-worker will be starting her 27th year.
Three horses in Colorado, 1 in Pueblo, and 2 in Greeley have tested positive for the West Nile Virus.
25 Years Ago
September 3, 1992
The second annual Kiowa County Trap Shoot will be held at the Hunter Education Range located at the fairgrounds.
Volunteers are needed in several positions at Eads High School. Eads High School will be relying on volunteer help to take care of some of the duties that were formerly paid positions.
40 Years Ago
September 9, 1977
Sheila Mayo named Colorado State Sheriff Posse Queen. Miss Mayo won over 10 other candidates representing counties in the statewide competition.50 Years Ago
September 8, 1967
Thirteen varieties of wheat were designated by the USDA as undesirable for price support purposes under the 1968-crop wheat price support program.
75 Years Ago
September 4, 1942
Mr. & Mrs. Herb Ambrosier and children, who reside on Big Sandy south of the old SS Ranch, suffered the terrifying experience of having their house being stuck by lighting.
100 Years Ago
August 31, 1917
Percy Devereux has moved the barber shop to the building on the corner formerly the post office.
Fixtures and shelving for T.F. Prajer's drug store, soon to be located in the Fluke building, have arrived and being put in place. Mr. Prajer will have just about the finest drug along the Missouri Pacific for some distance.
Jesse Miller and Arthur Gish are the first from Kiowa County to be called to join the selective army draft.
The State Road north from Eads to Kit Carson designated as State Road 17 is being improved. A hill is being graded down preparatory to surfacing & crossing at Rush Creek being graded.