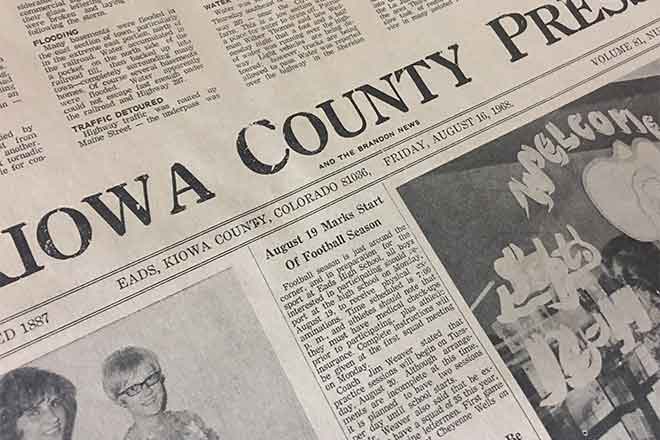 Published
Friday, November 17, 2017
15 Years Ago
November 15, 2002
Eads man was detained for several hours following reports of shots fired near the schools in Eads.
USDA Update-Rod Johnson: Arrive early and avoid Fridays when you come to the FSA Office to select your base & yield option for the new farm bill.
Wild Horse Roundup-Curtis Schrimp: I went to Kit Carson to watch our boys play Peetz in a playoff game.
25 Years Ago
November 12, 1992
First time in five years the Plainview Hawks have been to a state playoff game. They ended their season with a 5-4 record.
Kit Carson News- Ruby Lafferty Betty Sterns: The Election Day Dinner was well attend at the Wild Horse Community Club and the ladies were so happy to raise enough money to completely pay off the new roof on the school building.
40 Years Ago
November 18, 1977
The first animals were slaughtered Tuesday at Haswell new meat processing plant, L and M Processing.
Water quality as it flows off agricultural lands will be a controversial topic when the Colorado Association of Soil Conservation begins its 33rd meeting.
Tina Rehfeld of Sheridan Lake was one of 30 youths from Colorado to win an all expense paid trip to the 56th National 4-H Congress in Chicago.
50 Years Ago
November 17, 1967
F.L. Pyles, president of the First National Bank, Eads, presented plaques to 4-H outstanding girl, Toni Lou Murdock, and outstanding boy, Kenneth Brooks.