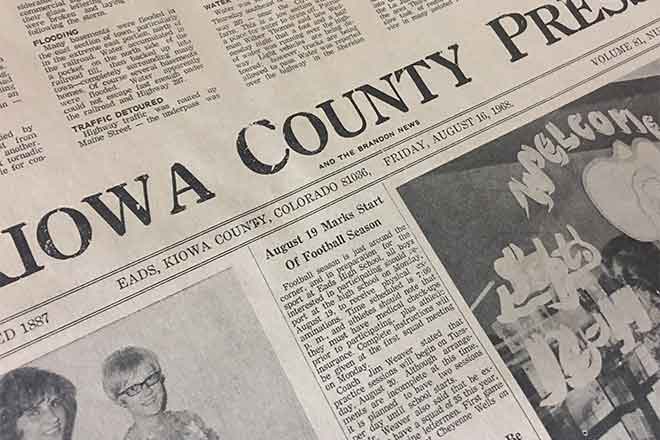 Published
Friday, November 24, 2017
15 Years Ago
November 22, 2002
Weisbrod Family Council held the drawing for Bronco tickets during coffee hour. Theo Kirschman drew the winning ticket belonging to Ray Crow.
Ryan Trosper has been nominated to complete in the national Principal's Leadership Award scholarship program sponsored by the National Association of Secondary School Principals.
East End Events-Kami Stum: The Christmas trees with the special shopping tags will be in the Sheridan Lake Post Office and Towner Senior Center.
25 Years Ago
November 19, 1992
The Weisbrod Hospital and Nursing Home will be sponsoring the 13th Annual Fall Bazaar.
Weisbrod Nursing home residents celebrated Thanksgiving at the Community Building. Between 175 & 200 family and friends enjoyed turkeys donated by Joe & Faye Schmitt.
40 Years Ago
November 25, 1977
Southeast Colorado Power Association agreed to settle its difference with the Town of Eads, $3000, one half of what it claims the town owes.
The Weisbrod Memorial County Hospital Board heard another gloomy auditor's report. The facility is currently experiencing cash flow problems and is limited in its borrowing capacity.
50 Years Ago
November 24, 1967
The Towner Lions Club will soon be having a broom sale-including several items made by the blind at the rehabilitation Center in Denver.
The first annual Kiowa County Soil Conservation District meeting was held November 14