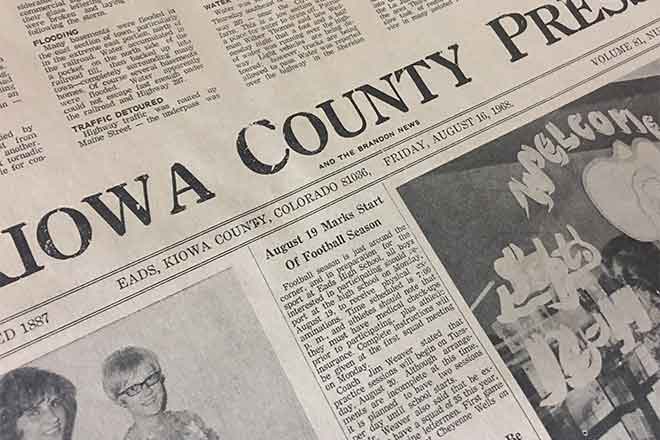 Published
Wednesday, November 29, 2017
15 Years Ago
November 29, 2002
Weisbrod Auxiliary Bazaar was a success with something for everyone.
Eighty-two kids from six counties converged on Lamar the 4-H District VI NightOwl.
25 Years Ago
November 25, 1992
Kit Carson News-Ruby Lafferty: We received approximately 5" of snow with a good half inch of moisture.
Deborah L. Murdock of Sheridan Lake is among those listed in 1993 edition of Who's Who Among Students in America's Junior Colleges.
40 Years Ago
December 2, 1977
Possible scrapping of the proposed Arkansas Valley Conduit, which would bring western slope water to Eads at a cost now estimated more that 41 times original projections.
The Eads FCA will host 28 Air Force Cadets and others from the US Air Force Academy during a 2-day rally.
50 Years Ago
December 1, 1967
The First National Bank in Eads to observe 80th Birthday.
The Eads Lions Club hosted a Hawaiian Luau with more than 80 in attendance.