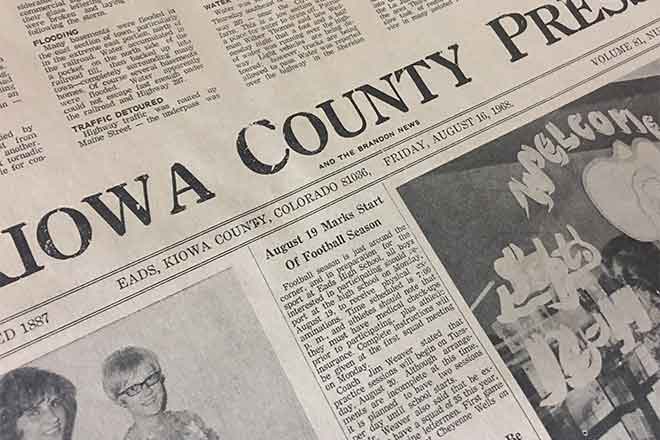 Published
Friday, December 15, 2017
15 Years Ago
December 13, 2002
Through the National Fire Plan, much needed dollars came to rural fire departments in southeast Colorado.
The community announcement board on Galaxy Cable channel 3 in Eads will return to the air within the next week.
The FFA class at Kit Carson High School has selected to work in cooperation with FarmRanchLink for their fund-raising project.
25 Years Ago
December 10, 1992
The Eads Progressive Extension club sent 157 dozen cookies to the Fort Lyon National Veterans Hospital.
Towner News- Ann Harkness: Winter storms seen to make this column every week lately.
After much deliberation, the Eads Board of Trustees approved a Resolution to increase the water rates for all customers beginning January 1, 1993.
40 Years Ago
December 16, 1977
Under normal conditions, Bill Howland, superintendent of Amity Co., said estimated 7,000 acre ft. might fill the Queens Reservoir, but this year the entire Arkansas Valley is hurting.
The Kiowa County Farm Bureau carried five proposals for changes in the Colorado Farm Bureau's basic policy to the state convention. Four were approved without objections.
50 Years Ago
December 15, 1967
An estimated 500 friends and patrons turned out for the open house held at the First National Bank- completing 80 years of service to Kiowa County and the surrounding area.
Four inches of snow recorded in Eads with .25 inch of moisture.