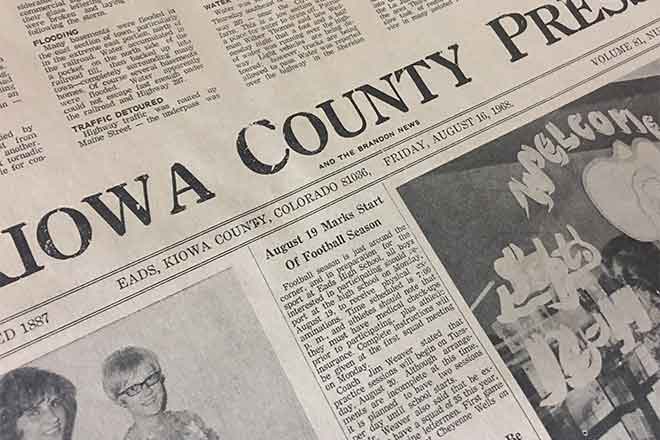 Published
Monday, April 23, 2018
15 Years Ago
April 25, 2003
About Town-Ida Lessenden: It was drizzling rain most of the day. When we drove to the west end, glad to see the prairie greening up. It was windy most of the week & I have seen many neighbors dragging broken branches out of their yards.
Eads Police Report-Officer Chad Ray: The highway from 15th and Luther was closed temporarily due to high wind, which damaged a power pole during the early hours.
Wild Horse Roundup-Curtis Schrimp: I got to see a pretty good rain today. The only problem it was at Coors Field, as I was watching the Rockies.
25 Years Ago
April 28, 1993
Rachel A. Davis, daughter of Gary & Cheryl Davis, has received a number of honors this spring. Most recent, she was awarded second place in the Junior High Poetry Creative Writing Competitions at Arkansas Valley Arts Festival.
The Eads Senior Citizens enjoyed a bountiful ham dinner. What an assortment of pies. Dan Garner is always on hand to help with all that dishwashing.
40 Years Ago
April 28, 1978
The RE-1 board voted to approve a one-year contract with Rocky Mountain Data Processing Co, to handle by computer such functions as figuring class schedules, running total of absences, figuring grade point avg. & others.
Sparkling in their new uniforms, the Plainview Junior & High School Bands performed a community concert.
Potpourri-Nick Johnson: Note from Doris Lessenden following the Eads H.S. student council elections: "Political parties, take note. You have some young people gaining political expertise. They could be a great asset to your party in the future."
Anyone having used clothing & things Goodwill can use please bring it to the north entrance to the courthouse. Do not leave anything outside. Things may be left by the library door.
Eads: C.A. Wood writes he is moving to his summer headquarters in Klamath CA. He uses a bike for local travel and has logged 1,100 miles this winter. Pretty good for a young fellow of 82.
50 Years Ago
April 26, 1968
Ralph Berry, 8th grade student at Eads Elementary, will represent Kiowa County in the Colorado-Wyoming Spelling Bee in Denver.
Christine Brenton of Eads and Susan Crum of Plainview, have been chosen as delegates to Columbine Girls State held at Temple Buell College.
Fast Construction Co. of Greeley arrived to start widening Highway 96 between Haswell and Arlington.