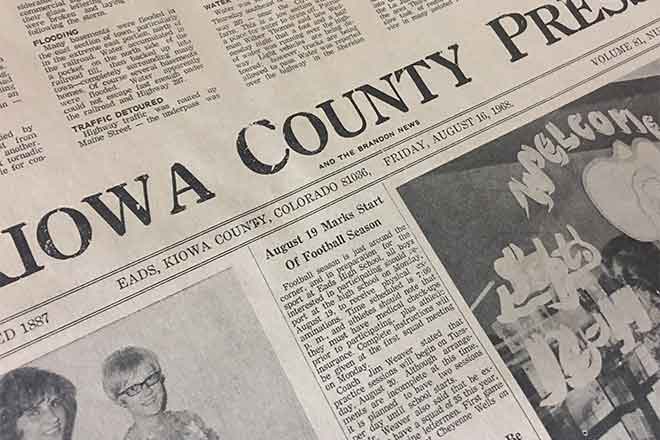 Published
Sunday, May 27, 2018
15 Years Ago
May 23, 2003
USDA Update-Rod Johnson: The Kiowa County FSA Committee has requested the State Committee to implement emergency grazing of CRP beginning June 1.
25 Years Ago
May 26, 1993
Severe thunderstorms spawned tornadoes in Kiowa and Prowers Counties last Saturday afternoon. Other tornadoes were sighted in Kit Carson & Cheyenne Counties.
Ordinance #92 states "it is unlawful for any person to ride a bicycle on the sidewalk of the Town of Eads."
Kit Carson News: Congratulations to Eldon Stoker on placing 3rd in the Old Timer Rodeo. He had not bull-dogged in 21 years, so he can be very proud of this.
40 Years Ago
May 26, 1978
Barton D. Miller, of Sterling, received broken bones and lacerations after he was thrown from his vehicle when it was hit by a tornado on CO 96 eight miles west of Haswell.
The Plainview High School boys 880 relay team were disqualified before the race at the state meet because of their unmatched uniforms. The boys ran the race even though they knew their time would not count. This did not prevent the team from finishing 3rdand turning in their fastest time of the year.
50 Years Ago
May 24, 1968
Merle Garner of Eads was on the list of 29 Colorado high school juniors Colorado State College named to attend the tenth annual Frontiers of Science.