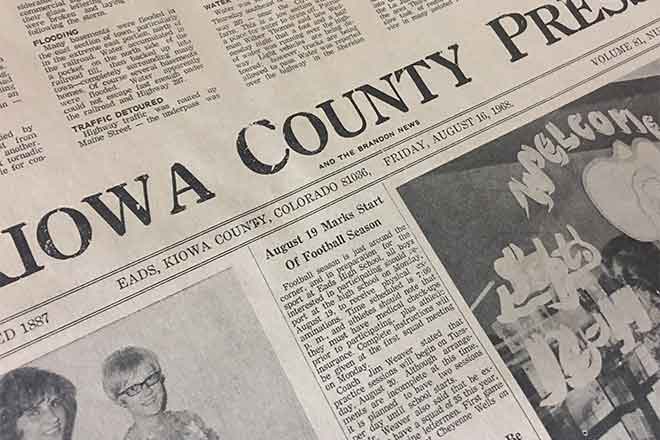 Published
Friday, February 2, 2018
15 Years Ago
January 31, 2003
Great Outdoors Colorado Board awarded $150,000 in lottery funds to the Central Kiowa County Recreation District to help improve & expand the athletic facilities at the Eads Athletic Field.
The Salvation Army store in Eads has closed its doors temporarily due to lack of volunteers to operate the store.
Kiowa County Economic Development Foundation issuing a call for photographs of Kiowa County to be used to promote the county.
25 Years Ago
February 4, 1993
A rash of UFO sightings across eastern Colorado have scientists and government officials looking for answers.
Towner News-G.K & Ann Harkness: Anyone traveling highway 96 between Sheridan Lake & Towner discovered about a mile of the highway had collapsed.
40 Years Ago
February 3, 1978
Fifty-six landowners & farm operators in Kiowa County petitioned Secretary of Agriculture Bob Bergland to authorize normal crop acreage on land once in government conservation programs which remains in vegetative cover.
Potpourri: A new word is working its way into the nation's vocabulary these days: gasohol.
Mr. & Mrs. V.A. Harris of Sheridan Lake experience an eerie & shaky feeling when a bullet from a high-powered gun sailed through the 3 walls of their home from an unknown source.
50 Years Ago
February 2, 1968
A new project in Towner has created new employment for that small farming community and caused a greater demand for locally grown grains.