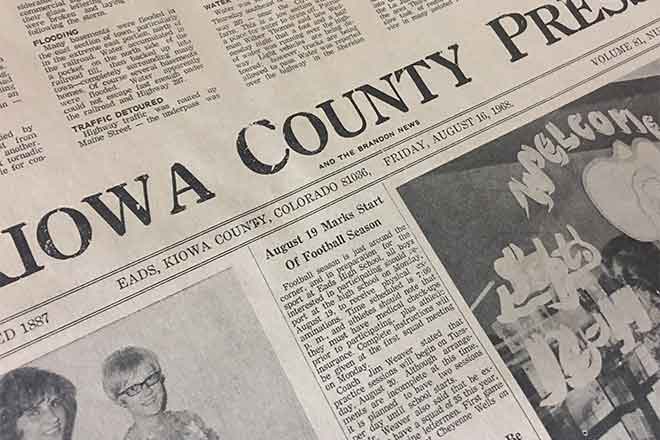 Published
Sunday, June 10, 2018
15 Years Ago
June 6, 2003
* About Town-Ida Lessenden: Tip of the Hat to Craig & Darla Hansen and Milton & Dawn Rae Watts who organized the Junior Rodeo
* Balloon Travels 1416 Miles in 23 Hours. The nursing Home residents acted in a balloon lift with the 2nd& 3rdgraders from Eads Elementary. The next morning Nancy Wilson received a response from John Farmer who lives in Savannah Georgia
25 Years Ago
June 9, 1993
* A new business has opened in Eads. Our Place is owned by Sharon and Forrest Frazee. Sharon wanted a business where family members could work side by side. Her children, Heather, Lori & Greg work during the summer and after school, husband Forrest handles the bookkeeping.
* County Clerk, Betty Crow reminded the commissioners of the Sunshine Act that took effect on June 1, 1991
* Severe weather pounded the area again as large hail and heavy rains fell Wednesday and Thursday. Hail ranged from golf ball to jagged tennis ball size. It was difficult to imagine hail this size occurring as the temperature didn't reach 70 and it was foggy most of the day.
40 Years Ago
June 9, 1978
* A late Saturday night through early Sunday morning storm dumped a total of more than 2 inches of rain and some hail the size of golf balls over a widespread area.
* At the regularly scheduled meeting, members of the hospital board named Mr. Rex (Rusty) B. Laughridge as the new interim Administrator for the Kiowa County Memorial Hospital and Nursing Home.
* A public meeting to record opinions of the problems, trends, and needs for natural resources in the county will be at the Kiowa County Courthouse meeting room.
* H. Gene Koch, who had been director of operations for Ball Agricultural Systems, was promoted to Vice President of the same organization. Koch is a graduate of Eads High School and the son of Mr. & Mrs. Ralph Koch
50 Years Ago
June 7, 1968
* Five Kiowa County boys will be attending Colorado Boys State on the campus of Colorado State University. They are Larry Weber, Sheridan Lake, Terry Laird, Gary Shotton and Merle Garner, Eads and Douglas Forsyth from Haswell.
* Much of the area was included in a severe weather watch with some parts of the county receiving cloudbursts accompanied by a considerable amount of hail.