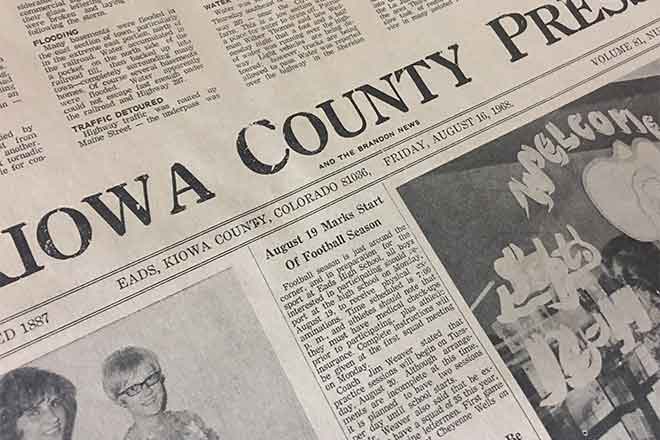 Published
Friday, June 22, 2018
15 Years Ago
June 20, 2003
Charlotte Phillips received an award from the state of Colorado for the Outstanding Small County for performance in the area of Child Support Enforcement
Ashley Brown of the Eads FFA Chapter was named the Arkansas Valley FFA District Washington Leadership Conference scholarship recipient.
Rep. Marilyn Musgrave (CO-04) received a check, behalf of the CO Department of Transportation, for $3 million from the U.S. Transportation Secretary. The funds will used for the Wiley Junction reconstruction project on US Highway 287.
25 Years Ago
June 23, 1993
Once again, Eads and Kiowa County received national attention because of weather. Doppler radar indicated a tornado was forming a few miles southwest of Eads. The State Patrol received a report of a tornado touch down 4 miles south of Eads near 287. A caller to the Press reported a tornado touched down briefly south of Brandon. Sheridan Lake received marble to golf ball size hail.
40 Years Ago
June 23, 1978
Weisbrod Memorial County Hospital performed a major surgery, which required an emergency call for 38 units of blood. Calls were made, donors were asked to donate needed blood. In short order word passed from person to person and by the end of surgery, more than enough blood had been given by unquestioning volunteers.
50 Years Ago
June 21, 1968
Work was started this week to raze the Commercial Hotel in Eads. The hotel, built in 1908 by A.G. Hines, has been a familiar landmark on Maine Street for many years.
A group of 4-H members, accompanied by Mrs. Charles Peck as leader, gave demonstrations on KKTV Channel 11 Tuesday.
75 Years Ago
June 18, 1943
A very destructive storm hit in the Eads community in the form of wind, hail, and rain. Farmers residing east of town suffered much damage with practically all the row crops a total loss.
100 Years Ago
June 21, 1918
This week John H. Wood of the Commercial Hotel of Eads purchase the Kit Carson hotel. Mr. Wood will take personal charge, making trips each day, thus insuring both Kit Carson and Eads the usual high standard of hotel management maintained by Mr. Wood.